Volleyball team responds after loss
In its last away game of the season, the Tonganoxie High School volleyball team proved it has what it takes to bounce back from adversity.
The team traveled to Carbondale to take on Santa Fe Trail and DeSoto on Oct. 10.
In its first match, against Santa Fe Trail, the Chieftains came out of the gates quickly, grabbing an early lead.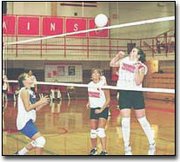 But Santa Fe Trail was able to regroup, and the game was tied until late when it pulled away and beat the Chieftains 11-15.
Demoralized, the Tonganoxie team lost the second game against Santa Fe Trail, 15-0.
(In the first game), the girls played very hard, said coach Kelly Alexander.
The second game was a huge mental challenge. It was a let down to lose that game after they played so hard.
But a fired-up Chieftain squad came out hot against DeSoto and never cooled, beating the team 15-7, 15-8.
I was very proud of them for bouncing back and playing hard, Alexander said.
The junior varsity team ended its season beating both DeSoto and Santa Fe Trail at the tournament.
The varsity volleyball squad played its last home tournament on Tuesday.