Bobcats slash
THS

winning streak
Basehor-Linwood ended Tonganoxie`s winning streak at four Friday when the Bobcats beat the Chieftains 21-13 at home.
But make no mistake; the victory wasn`t an easy one for the Bobcats, who currently are in first place in the league, followed by the Chieftains.
To claim a Parents Night win, Basehor-Linwood had to weather an explosive second half by the Chieftains, both offensively and defensively.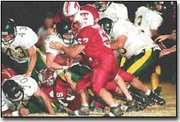 After playing a sluggish first half, the Chieftains were dominant after the break.
"We talked at halftime about if we could score on them, they would get flustered," said Coach Mark Elston.
Though the Tonganoxie offense had possession of the ball for most of the third period, it didn`t find the endzone until early in the fourth.
On the heels of an 11-play drive that burned away the last half of the third quarter, senior receiver Willie Altman put the Chieftains on the board with a touchdown catch early in the fourth.
That was the spark.
"That first touchdown really messed with them," Altman said. "We got them down and just took off."
After punching in the extra point, the score was 21-7. The Chieftains faced the daunting task of scoring at least twice more in the remaining 9:43.
The Chieftain defense did its part, holding the Bobcats to three plays and a punt.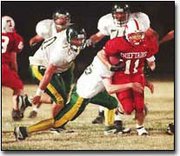 It was a short punt, too, and the Chieftains found themselves 29 yards away from their second touchdown with about seven minutes remaining in the game.
Tonganoxie achieved two first downs on its drive to the endzone, scoring a Kyle Wedel touchdown with 5:15 left to play. The score was 21-13.
And though it remained an eight-point game following a bobbled extra-point snap, the Chieftain defense kept the team in it with two big stops to force third and 10 with more than four minutes left.
But when what appeared to be a Tonganoxie fumble recovery was ruled a Bobcat first down, the Chieftains watched a golden opportunity slip away.
"The fumble was enormous. If we get the ball there, we`ve got four minutes to score," Elston said. "That`s plenty of time."
But still Tonganoxie didn`t give up.
The defense forced a fourth down on the Bobcats` next set of downs, and took over at midfield with 2:17 remaining.
But after moving the ball all the way to the eight-yard line, the Bobcats intercepted a Tonganoxie endzone pass and ran out the clock.
"The whole coaching staff was extremely proud of how the kids fought and kept coming back," Elston said. "They didn`t ever think they were out of the game."
The Chieftains, 4-4, play here against Lansing at 7 p.m. Thursday. It`s senior night and the final game of the regular season.