One more 'Light' added to Speedway's circuit
Kansas Speedway season ticket holders just got a little more for their money.
Grant Lynch, Speedway president, announced last week the addition of the Dayton Indy Lights Championship to the Speedway`s Indy Racing Northern Light Series weekend event. This make a total of five races included in the season ticket package.
Stann Tate, director of public relations for the Speedway, said the additional race, scheduled for July 8, would add value to the season ticket package.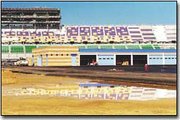 Other scheduled races included in the Kansas Speedway`s 2001 season ticket package are the NASCAR Craftsman Truck Series on July 7, the NASCAR Busch Series, Grand National Division, on Sept. 29, and the NASCAR Winston Cup Series on Sept. 30.
The Dayton Indy Lights Championship is expected to draw even more race fans.
"I think this is probably the race that will put us over the hump and will enable us to sell out completely in the season tickets," Tate said.
The Speedway will hold up to 75,000 spectators and will have parking capacity for 65,000 vehicles when it opens next April.
So far, about 85 percent of season tickets have sold.
Roger Bailey, president and CEO of Dayton Indy Lights, referred to Indy Lights as "the college" for racecar drivers.
"It`s the final stepping stone," Bailey said. "It`s the college for open wheel motor sports."
Bailey compared Indy Lights cars to the Indy car. The Indy Lights have a 112-inch wheel base, vs. the 120-inch wheel base. Indy Light cars weigh 150 pounds less, they have a 425-horsepower engine instead of 700-horsepower and they can travel at 200 mph while the larger cars can drive up to 240 mph.
The engines of the Lights are maintained in one shop.
"We strive to have all of the cars the same so that the true element is the driver," Bailey said. "So, at the end of the day, hopefully the guy who comes out on top is truly a champion."
Chris Menninga, an Indy Lights driver, gave his approval.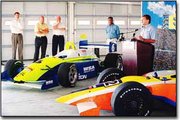 "If you can drive this car fast, you can drive any car," Menninga said.
Jeff Boerger, Speedway vice president, said construction on the motor sports complex is about 75 percent completed.
Terry Flannagan, vice president and director of transportation and Kansas Speedway project principal for HNTB, said the second layer of the course was tested last week.
"We had an open wheel driver and a stock car driver out to test the track," Flannagan said. "We had good feedback."
The 1.5 mile tri-oval track`s 55-foot wide pavement`s final wearing surface will be put down in two or three weeks, he said.