Volleyball team loses in first round of sub-state
Losing isn`t always bad, as long as there`s something important to gain from the experience.
The Tonganoxie High School volleyball team lost to Topeka-Hayden Saturday in the first round of the Class 4A sub-state tournament in Topeka in two games, 4-15 and 7-15. Coach Kelly Alexander said it was probably one of the team`s best matches all season.
"I actually feel like we peaked at Topeka," she said.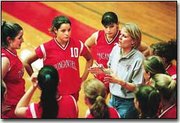 "Before we played, I told them, win or lose, let`s feel good about the ending."
And, for the most part, they did, making a respectable showing against the second-seeded Topeka-Hayden, which won sub-state and will head to the state tournament.
"Keri Walker, our setter, had an outstanding day," Alexander said. "She has really developed as a leader and as a setter for the team.
"As setter, you really need to be the quarterback of the team. She filled the position nicely this season. Setters don`t normally get a lot of credit, but she did a great job."
Earlier in the week, the Chieftains lost to Topeka, 15-13 and 8-15, St. Thomas Aquinas, 4-15 and 4-15, and Lawrence Free State, 6-15 and 7-15, at home.
Alexander and the rest of the team are beginning to think about next season.
"I look forward to building on the experience from this year," Alexander said. "This year, we really had a young team, but they`ve learned a lot and have improved skills-wise."
As the season has progressed, she said, the players have gained confidence.
Finishing the season 9-24 wasn`t what the team had in mind, but Alexander said there were several games that could have easily gone the other way.
"It`ll be important next year that we`ll know what to do in similar situations to get the win," Alexander said.