Developers banking on Tonganoxie housing
On the site of fields once planted and plowed, houses now stand.
For about 30 years, Tonganoxie has watched the gradual transformation of rural land into residential land.
At the 135-acre site of the Stone Creek development at the east edge of Tonganoxie on U.S. Highway 24-40, about a dozen houses and duplexes now stand where a year ago there were none.
This is typical of any community in the midst of growth, and even more typical of towns neighboring metropolitan areas.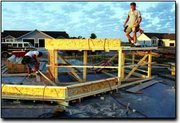 Art Hancock, one of Stone Creek's owners, said Phase 1 of Stone Creek's development is moving along.
"It's good so far," Hancock said. "It could be better, but it can always be better."
Of the 40 duplex lots platted in Phase 1, 36 have been sold.
"We're tickled with that and we've got a guy contemplating buying those last four," Hancock said.
The developers will probably soon begin engineering their way into the second phase of Stone Creek's development, Hancock said.
"We'll get all that engineering work done on paper and then we'll go to the city and get everything arranged so that as soon as the weather breaks in the spring we can start on the next group of lots," he said.
This second phase will most likely include 30 to 40 single-family lots, Hancock said.
In addition, Stone Creek includes commercial property, which runs 300 feet deep along the highway. "We're getting ready to probably start marketing the commercial tracts," Hancock said.
Overall, Hancock said the Stone Creek development is moving along as he expected.
"It's been a good thing," he said. "We're still a ways from profit, but we knew that going in."
At the Eagle Valley subdivision on the south edge of Tonganoxie, about a half-dozen houses are under construction now.
Kenneth Ketchum, Eric Sullivan and Tim O'Connor were back on the job Tuesday after a holiday weekend and cooler skies that meant a spell from last week's triple-digit temperatures. This is the only house in Eagle Valley that the Ketchum Rental and Construction crew is building right now. Ketchum pointed to two houses nearby.
"We built those last year," he said. "It took quite a while for them to sell. There are so many on the market right now that you have to be willing to sit on your property because you're competing with everybody and their brother."
But that's no reason for construction to slow down, he said.
"The competition is stiff but everything sells," Ketchum said. "I was talking to a guy from Lawrence and he said that when they were building so many apartments in Lawrence, people would ask how they will rent all of those and where will the people come from. Well, now they're rented out I guess one reason is, they keep making people."
J.W. Evans, a long-time Tonganoxie Realtor, has some concerns about the local residential market.
"I think the real estate market is overbuilt a little bit lots of houses, lots of duplexes," said the 65-year-old Evans.
Evans, whose family business has operated here for 105 years, has a unique perspective on the area's real estate. He's working on Evans East, a 14-lot upscale residential development northeast of Pleasant and Washington streets. So far, he said, he's pleased with the pace that lots are moving. Three are sold, and two more soon should be.
"I'd like to go a little bit faster," he said. "But you don't build $225,000 to $250,000 houses quickly in our community."
The resale market remains strong here, particularly for homes in the $70,000 to $80,000 range.
"I think our town's growing," he said. "There are people still coming.
The developers of Eagle Valley in south Tonganoxie are pleased with the local market.
"We have 20 homes sold," said Tim Keller of Keller and Associates in Lawrence. "They're either spec homes that have been purchased or homes that have been built custom. We feel real good about that, after having broken ground a little over a year ago."
Additional phases of Eagle Valley are planned, but Keller said he's not sure when construction might begin on the next 43 single-family lots. "We're monitoring it," he said.
A commercial lot at the northeast corner of 12th Street and U.S. Highway 24-40 remains available.
"We've had lots of inquiries," he said.
Generally, Keller remains optimistic about Tonganoxie's real estate market.
"There are a lot of good things going on in Tonganoxie," he said. "We feel good about our development."