Tough defense not enough for soccer team
The Tonganoxie soccer team put up a strong defensive showing last Thursday against Free State High School, but couldn't get the job done offensively and lost the game 4-0.
"They ran a good offensive attack," said Coach Harold Pittman. "But our defense held strong."
And the offense really didn't play that badly either. It was the transition game that the Chieftains struggled with on Thursday.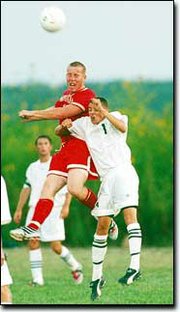 "We only had three or four shots on goal," he said. "But transition is one of the things we continue to work on."
And transition is key. In order for the offense to score, it must first get the ball from the defense. And Pittman said that three or four shots on goal usually wouldn't win many games.
Coach Pittman said that senior goalkeeper Dave Gepner had an outstanding game.
"The other coach was even impressed with him," Pittman said. "He stopped a large number of goals from going in."
He added that junior Dustin Schultz and senior Kyle Rodell from the defense had good games also.
He said that much of the defense's success was due to the endurance, speed and agility of the two.
Coaches said that the team played well considering the difference in sizes of the two schools.
Free State is 6A, while Tonganoxie is only 4A.
"I felt like we played a good game against a good team," he said. "I'm looking forward to the next game."
The team played Basehor-Linwood on Tuesday and will play Perry-Lecompton at 6 p.m. Thursday here in Tonganoxie.