Chieftains make gains in 33-14 loss
Second-quarter surge edges Immaculata over Tonganoxie
The Chieftains drew first blood.
With 2:05 left in the first quarter of Friday's game against Immaculata, senior Joey Holek returned a punt 75 yards for a Chieftain touchdown. The extra point made it 7-0.
But it was the only lead the Chieftains were to have in the game a 33-14 loss to Immaculata.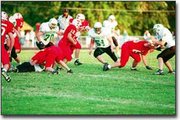 After holding Leavenworth's Immaculata scoreless in the first, Tonganoxie just couldn't hold the tide any more and Immaculata outscored the Chieftains 26-7 in an explosive second quarter.
Tonganoxie's second quarter touchdown came when sophomore quarterback Troy Morando found the end zone off a quarterback draw around the left side from 12 yards out.
It was the first play of the drive following a kick off return by junior Joseph Sledd who brought the ball the length of the field.
It was 26-14 at the half.
Immaculata scored once more in the second half.
It went to the passing game early on to open up things on the ground.
Immaculata's running game ran down the clock and kept Tonganoxie on defense and off the scoreboard.
For the Chieftains, the game was marked by tremendous special teams play.
That was no mistake. Coach Mark Elston said his team had focused on special teams plays during practice.
"We worked on it three days last week," Elston said.
He added that technology also played a role in his team's improvement over last week.
"Kids were able to see things on film and it gave them a clearer picture of some of the things we need to improve," he said.
One of the things that was improved was team blocking, which helped returners Holek and Joseph Sledd make such remarkable runs at the endzone.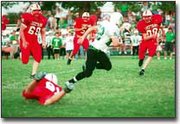 But on the other side of the special teams game is kicker Ryan Lowe, who is proving a powerful weapon.
"Lowe can kick it as far as you want him to kick it," Elston said. "That takes a whole lot of pressure off us and puts a whole lot on the opponent."
Lowe, who's also a force for the soccer team, is usually good for a 50-yard punt, can hit most of his extra points and can send a kick-off out of the endzone in fact, he put one through the uprights Friday.
Oh, and he had three goals for a hat trick against Perry-Lecompton Thursday for the soccer team.
The Chieftain football team's next game is 7:30 p.m. Friday at Pembroke Hill.