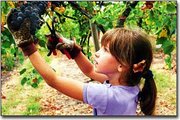 As they snipped off purple grapes nestled among vivid green vines, Kathryn and Nick Szilagyc talked quietly, joking about the chances for a career change.
"When you think about a second career you can rule out what you want to do," Kathryn Szilagyc said, peering out from the straw hat that covered her head.
The Kansas City, Mo., couple had arisen early on a recent Sunday morning and taken a short drive to Holy-Field Vineyard and Winery. Joining them that day were about 50 people of all ages who had heeded the call to pick grapes in return for a spaghetti dinner and samples of wine.
As a project manager for a computer firm, Kathryn Szilagyc doesn't often make it to the country let alone go on a grape-picking expedition.
"I don't know that we're ready for a career change," Szilagyc said, smiling. "It makes you appreciate what goes into a bottle of wine."
Her husband, a physician, was having a great time in the vineyard, as he filled a bucket with bunch after bunch of grapes.
"It's fun," he said. "It gets you out on a Sunday morning. It gets you doing something."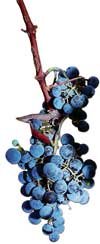 The couple had joined two friends at Holy-Field, which is just west of Basehor. The four Kansas City area residents said it was the wine that drew them to help with this year's harvest.
"What's the real reason for us to be here?" Jenny Forbes said, laughing. "Let's be honest. We have a designated driver."
"Kathryn is the designated driver," said her friend, Tom Ryan. "We're designated tasters."
This year, the grape harvest came early, spurred on by intense heat, said co-owner Michelle Meyer Havey.
"You don't need record-breaking temperatures because the vines shut down," she said.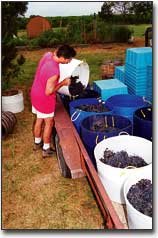 She and her father, Les Meyer, agreed harvest is running three to four weeks ahead of normal.
After volunteer pickers complete their work, their bounty is fed into a grape crusher. The transformation from grape to drinkable wine takes two years, Les Meyer said. The 12-year-old Holy-Field vineyard bottles 14 varieties of wine.
While most of the pickers at Holy-Field kept to one row, picking grapes as they went, there was an exception. Emma Holyfield, 7, wearing a lilac shirt now stained with juice from fresh-picked grapes, simply ducked beneath the gnarled leaf-covered vines and skipped from row to row looking for the plumpest bunches of purple grapes. After several clips, her tiny hands brimmed with more grapes than she could hold, so off she'd scamper to add her grapes to those her parents, Martin and Paula Holyfield, had picked.
For Martin Holyfield, who with his family lives in Piper, this was not far from his beginnings.
"My grandfather's farm used to be along this road," Holyfield said. "Eventually, everybody got to calling this Holyfield Road."
His grandfather, Jerry Holyfield, died in the early 1970s, but the name lives on not only in the name of the road, but now also in the name of the vineyard.
Like the rest of the pickers, the Holyfields do it for fun.
"This is our second year," Paula Holyfield said. "We didn't know they did this until last year, and this time we've brought a group of six people with us."