Mayor rejects resignation
Basehor official faces felony charges related to job at prison
Basehor Mayor John Pfannenstiel said this week that he has no intention of resigning from office, despite criminal charges filed against him.
"I don't have to resign," said Pfannenstiel, who's been Basehor's mayor since spring 1997. "I don't intend to resign."
Last week, Pfannenstiel was arrested and charged in Leavenworth County District Court with three felonies: one count of taking contraband into a correctional facility and two counts of unlawful sexual relations with inmates.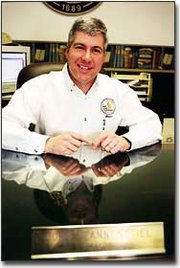 Pfannenstiel, 38, has worked as a corrections officer since 1986 at Lansing Correctional Facility. The charges allege that he had sexual relations with two male inmates and that he brought into the state prison three pairs of jeans and a watch battery.
A preliminary hearing originally was scheduled for this morning, but attorneys said Tuesday that they expected it would be postponed.
Monday night, two Basehor City Council members said at a special council meeting that Pfannenstiel should take a leave of absence. His term expires next April.
But Pfannenstiel said he believes he can fulfill the duties of his office and still wage a defense against the felony charges.
"So long as we can continue doing business here, my intention is to stay in office and keep working," he said.
If, however, Basehor residents become outraged at his continuation in office, he would have to consider resignation.
"In a situation like that, it's not what's in the best interest of the city, it's me trying to satisfy my own ego," he said.
Pfannenstiel said he and his family have received nothing but good wishes since his arrest last week.
"I guess I really didn't know what to expect," he said. "We're handling it pretty well. The community reaction has helped."
Pfannenstiel said he didn't want to discuss the criminal charges.
"We're prepared to deal with it," he said.
Roger Marrs, deputy Leavenworth County attorney, said the decision to file charges was based on an investigation by officials at the prison.
Leavenworth County sheriff's Lt. Pat Sparks said Pfannenstiel was booked into the county jail at 1:06 a.m. last Wednesday and released about 10 hours later under a $10,000 personal recognizance bond. Kansas Department of Corrections officers arrested him.
Pfannenstiel has been placed on leave without pay from his job.
Bill Miskell, Kansas Department of Corrections public information officer, said an investigation was initiated several weeks ago after officials received allegations of illegal activity.
"Any time we receive that kind of information, we do conduct an investigation," he said.
Sexual contact between inmates and prison employees is a serious crime, Miskell said.
"The Department of Corrections requested from the Legislature several years ago that any kind of sexual contact with an inmate be a felony crime," Miskell said. "Any time that we develop that kind of information, we take the appropriate disciplinary action. This is the kind of activity that we do not tolerate."
Pfannenstiel, who started working at the Lansing Correctional Facility in January 1986, is a full-time employee with a Corrections Officer 2, or sergeant ranking, Miskell said.
The prison incarcerates nearly 2,500 inmates. A total of 530 uniformed staff officers are employed at the facility.
In an interview with The Mirror last March, Pfannenstiel said he grew up in the Leavenworth and Lansing area and attended high school in Lansing. He attended classes at Kansas City Kansas Community College and moved to Basehor in 1988. In 1992, Pfannenstiel unsuccessfully ran as a Republican in the August primary for Leavenworth County Commission.
He was elected to the Basehor City Council in spring 1991 and re-elected four years later. He was elected mayor of the southern Leavenworth County city in spring 1997 to a four-year term.