Camping club spends activity-filled weekend at fairgrounds
Tonganoxie played host last weekend to the Good Sams Samboree.
Good Sams is a RV camping club, and about 35 of its members' vehicles took up residence at the Leavenworth County Fair-grounds from Sept. 13 through Sunday.
Even though last weekend's samboree was Good Sams sixth district meeting, people from all over attended in conjunction with other samborees held nationwide.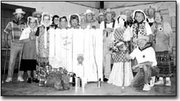 "It's a Good Samaritan, nationwide program of RV-ans," Orville Oelsch-laeger, Good Sam's 6th Dis-trict co-director, said.
There are nine districts and 56 chapters of Good Sams across the state. Oelschlaeger and his wife, Rosie, were in charge of the Tonganoxie samboree.
"Things went real well," Oelschlaeger said. "There are more people here than last year."
Several events kept campers happy.
Thursday night, the Tonganoxie High School Jazz and Pep bands entertained the campers. On Friday night, Scottie Lingelbach, who served in World War II and is mentioned in Tom Brokaw's book about the war, engaged the campers with tales about her life.
Bean bag baseball, playing cards, skits and baseball also were some of the events that campers participated in and observed.
Good Sams has about 12,000 national members from Kan-sas, with about 1,200 members involved in various state chapters.
People from all over the state and some from out of state attended the samboree, which is considered one of the smaller events.
Just about 30 years ago, Good Sam's was known as the Good Samaritan the description basically fits the title. People driving RVs across the state or nation would stop and assist those who were broken down on the side of the road. However, this practice has since changed, but Good Sams does offer many other services similar to that of AAA Emergency Road Service.
The Oelschlaegers are just one example of Good Sam's members who love their lifestyle and connection as RV-ans. Campers travel all over the nation to attend samborees; however, their game plans are often reflected by where samborees are located.
Besides traveling to various samborees, the Oelschlaegers went to Alaska for a month in 1998. They also have traveled to larger campouts, such as in Madison, Wis., and Gillette, Wyo.
Harold and Dot Alexander, who originally lived in Topeka, have been members for about 20 years. Now, they hang their hats in Yuma, Ariz., and venture to Lawrence during summers, setting up camp at Clinton Lake.
"We love the camaraderie and meeting with old Good Sams friends everywhere," Dot said. "You meet a lot of nice people and friends from a lot of states."
The Alexanders have been to about 40 samborees. They have traveled all over the country, except in the northeastern part of the United States.
Betty and Duane Wyant, of Wichita, have been active as state co-directors for three years now. They joined Good Sam's in 1984, after going to a sport boat and trailer show.
Being directors is a volunteer position, but for the Wyants it feels like a full-time job. The Wyants try to attend as many state samborees as possible. They also travel to ones in Missouri, Texas, Oklahoma and Nebraska. Currently. The Wyants also value meeting people everywhere they go. "We meet a lot of interesting people," Betty said. "Everyone is treated the same despite what their backgrounds might be."
Someday, the Wyants can see themselves as "snowbirds." However, for now, they are content being close to their grandchildren. The longest the Wyants have traveled was six weeks. For others though, traveling may be longer.