Chieftain runners log tough week
The Tonganoxie High School cross country team split its team and competed at two different meets last week, but almost every runner who competed faced races more difficult than normal.
At the first meet of the week Sept. 14 at McLouth, Senior Matt Needham took 14th with a time of 18:56.
Needham is still regaining strength after experiencing ear and throat problems.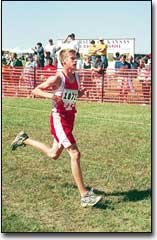 Freshman Ben Brest, running in the varsity meet, finished at 24th, running the five kilometers in 19:38.
Another freshman making the jump to running varsity was Elizabeth Smith who ran the two-mile girls course in a time of 16:15. She finished at 45th.
Tyler Davidson was the high finisher in the junior varsity boys race, taking eighth with a time of 21:29.
No girls from Tonganoxie competed in the junior varsity race.
Saturday at the University of Kansas' Rim Rock course, both teams faced a field of much bigger schools.
The boys team finished third and the girls team took ninth, but only lost to one school that was near its size.
That's a feat in itself, considering that the girls had to run five kilometers in the race, as opposed to the usual two miles.
Coach Phil Williams said that he hadn't known about the change in distance, so the girls had no time to prepare for the extra 1.9 miles.
"We were kind of surprised," he said. "But I think they did really well for their first time at running that distance."
In the girls race, sophomore Laura Korb took eighth with a time of 21:04. Junior Erin Seymour finished next for the Chieftains, coming in 48th with a time of 24:38.
Tonganoxie's remaining five entrants finished in a pack, with senior Kristin Korb finishing in 25:16 for 57th, junior Alicia Stauch finishing in 25:18 for 58th, junior Sarah Mages finishing in 25:19 for 59th, senior Aubrey Mikijanis finishing in 25:57 for 63rd and junior Cara Langston finishing in 26:15 for 66th place.
In the boys race, junior Alan Davis took sixth place, running the course in 17:35. He was followed closely by sophomore Kyle Norris, who took eighth with a time of 17:48.
The third finisher for Tonganoxie was sophomore Tony Aligo, who was competing in his first varsity meet. He finished 31st with a time of 19:07.
Junior Nathan Bailey took 36th with a time of 19:20.
Rounding out the boys finishers were junior David Saultz, who finished in 19:40 for 36th, sophomore Tommy Powell, who finished in 19:47 for 41st and junior Brian Gurss, who finished in 48th.
The team has a big week, as it plays host to 20 schools for the Tonganoxie Invitational 4 p.m. Thursday.