Safety comes first
Crossing guards watch over all
As parents get ready for the school year and attend open house to get to know their kids' teachers, they get a good idea what their kids will learn in the classroom and the activities the kids will participate in. But the learning isn't just in the classroom kids are learning while on their way to school too.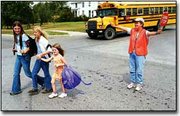 Every day that kids make their way to school, there are several different ways that the students can travel to school. Some go by bus, Mom, Dad, brother or sister and then some students walk to school. For the kids' safety, the elementary school provides crosswalk guards.
Now and during the previous school year, Donna Drinnon, Helen McBroom, and Tina Coleman have provided safe crossing at the elementary school. Lots of students, teachers, and parents use the crosswalk to get to school and these three women provide them safety when doing so.
"I like seeing and teaching the kids how to cross the busy highway," Drinnon said.
Drinnon is posted at the corner of 2nd street and U.S. Highway 24-40, where it is very busy, especially when school lets out. McBroom is posted at the intersection of 4th and Shawnee streets near the first grade classrooms. And Coleman is at the intersection of 2nd and Shawnee street by the gym.
"I started subbing about two years ago and this year I came on full time, I do it for the kids, they are well behaved and they always know to use the crosswalk for their safety," McBroom added.
Kids learn while going to school that using the crosswalk is for their safety, as well as the safety of the oncoming traffic in the morning and the afternoon. All three of the guards start at about 7:30 a.m. and end at 8:30 a.m. Then they return around 2:45 p.m. and leave at 3:30 p.m., so that they know every student gets a safe chance in crossing the road.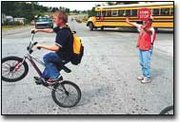 "I like to do this job so that I can meet kids and look out for their safety," Coleman replied.
The ladies all agreed when asked about the safety of the kids in that lots of people act as if the road was a race and that most of the time people won't stop for kids at a crosswalk. Also they all agreed that they wished more people would watch out for the kids and stop so that the kids can get across the road safely to school.
This year at Tonganoxie Elementary School not only are the students getting a great education but they are receiving a safe way to get there as well, and with this team of three women the children's safety comes first.