Slow starts plague soccer team
After ironing out early season problems with teamwork and the transition game, the Tonganoxie High School soccer team ran into another speed bump last week finishing.
"We played real good," said Head Coach Harold Pittman. "But we had problems getting the ball in the net."
The Chieftains lost 3-2 to Lansing on Sept. 12 and 0-1 to DeSoto on Thursday.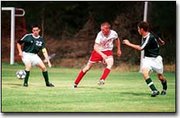 The team got off to a slow start against Lansing. It had several opportunities to score, but couldn't find the net early on.
Senior Scott Breuer opened things up for the Chieftains near the midpoint of the first half, putting them on the scoreboard with a kick from the corner.
But Lansing matched Breuer's goal, and a later score by senior Ryan Lowe, with two goals of its own.
Lansing added a penalty kick for the game-deciding score.
In Thursday's game against DeSoto, both teams played strong defense and both teams had problems capitalizing on scoring opportunities.
Unfortunately for Tonganoxie, DeSoto was able to slip one through in the first half, which was all it needed to win the game.
Pittman was pleased with his team's play for the week.
"We got a whole lot of guys playing good on defense, and the transition game remained good," he said.
He added that his team's inside-outside game was strong, but that he expected it to get even better as the team adjusts to the new soccer field.
The recently named Chieftain Field is wider than the football field, where the team previously played its games.
"Even though we didn't get the wins this week, we're still improving and looking forward to seeing how good we can get," he said.
With the two losses, the team dropped to 2-3 overall and 2-2 in Kaw Valley League play.
This week the team played Piper at home Tuesday and plays Thursday at DeSoto's Mill Valley High School. For both matches, the junior varsity plays at 4:30 p.m. and the varsity plays at 6 p.m.