Errant emus saved from harm
The partners-in-crime stood alongside U.S. Highway 24-40 at 158th Street Friday morning, seemingly oblivious to the stir they had created.
But the two emus, clearly, needed some help, decided Angie and Hardie Loehr.
Fortune, it seems, was with the flightless birds that stand nearly six feet tall.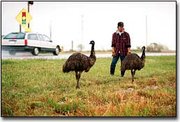 The Loehrs, who live a couple of miles west of site of the emu-escape, happen to raise emus and knew what to do.
"At first I thought they were ours," said Angie Loehr, "Because my husband had said something that morning about needing to fix the fence."
When they stopped and saw the emus, they realized they weren't theirs.
"But we just couldn't let them run around and possibly get run over," Angie Loehr said.
Angie Loehr left her husband to stand guard over the birds, and she drove to the home of a friend she thought might own the emus.
As vehicles zipped down the highway, some slowing to check out the curious sight of a man and two emus, Loehr talked gently to the birds. One of them seemed to be tame, he said, as he reached out to pat her under the chin. The other, he said, would likely be more difficult to catch.
As rain pattered on the backs of the animals' feathers and trickled from their straw-colored backs, Loehr continued his soothing talk. Around 9:30 a.m., sheriff's officer J.C. Terlaje arrived.
He grinned at the sight of the birds.
"This is the first call like this where by the time I get there the emus are still there," Terlaje said. "I've had three calls like this before."
Soon Loehr's wife returned, accompanied by a friend, who, as it turned out wasn't the owner of the birds. They were equipped with a basin of corn for a lure and a couple of long ropes.
About that time, Don Wilson, animal control officer, arrived from Basehor.
Across the highway, a Basehor patrol car waited on 158th Street just in case the birds decided to make a break for freedom.
Also stopping to offer assistance was Raymond Spellman, another patrol officer for the sheriff's department.
Quickly, with little time to pause once they started, Loehr and his friend, Pete Bardill, picked up and gently tackled the less tame of the two emus, and tied his legs together. Then they carried him to the back of a pickup truck for a ride home. The other emu stood nearby, guardedly watching the action.
When the second emu was finally tied and carried to the truck, Terlaje grinned and said, "They told me there would be days like this."
Monday, Angie Loehr said she and her husband are taking care of the emus at their farm.
"We'll just wait a while and if nobody claims them, we'll have two more to feed," she said. "We've got plenty of room out here, so it's no big deal."