Thunderstorm sparks football team
Goal posts are a lot like lightning rods.
So are metal bleachers, press boxes and facemasks.
So it's no surprise that Tonganoxie's game at DeSoto was rescheduled for Saturday when a thunderstorm spitting lightning moved through the area Friday evening.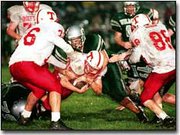 Conditions the next day weren't much better, as wind and rain kept both teams from throwing or kicking the ball much.
Which meant whichever team could play better defense and win the battle of field position had the best chance of winning the game.
The Chieftains held DeSoto to 88 yards in the game, winning 18-0.
"They really came ready to play," said Coach Mark Elston. "There was a big difference in attitude (from previous weeks) on Saturday."
Though the Chieftains were to play stifling defense for three quarters of the game, the first quarter was a different story.
In that quarter, the Chieftains gave up 60 yards. Neither team scored in the quarter, and going into the second with the score knotted at zero, it looked like it could be either team's ballgame.
But then Tonganoxie's defense clamped down. Over the next three quarters, DeSoto gained less than 30 yards.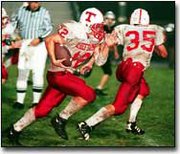 It had 3 yards in the second half.
Elston said that the defense really stepped up for the game. Senior defender Kyle Wedel had two interceptions for the Chieftains.
On the other side of the ball, an offense spearheaded by the Sledd brothers broke the back of the DeSoto defense.
After the scoreless first quarter, the Chieftain's offense came alive.
In the second, behind driving blocks from its linemen, the Chieftains pounded the ball up the field and scored from four yards out on a run by senior quarterback Jacob Sledd.
The Chieftains were held scoreless for most of the third, when Sledd scored in the waning moments of the quarter from 28 yards out.
The Chieftains added its last score with 3:30 left in the game, when junior running back Joseph Sledd broke free and scored from the seven-yard line.
Elston said that, like last week, penalties played a role in the game. But Elston said he's not all that concerned about the penalties because they stemmed from hard-nosed play.
"They were all aggressive penalties," he said. "So as a coach, I don't want to take that away."
He added, however, that he would like to try to cut down on some of the penalties.
The team's next game is 7 p.m. Friday at Santa Fe Trail.