Volleyball team improving
It was a two-and-out day for the Chieftain volleyball team last week.
In its 2-3 finish in Saturday's Tonganoxie Invitational, the Chieftains either won 2-0 or lost 2-0.
Coach Kelly Alexander said, "I think we're playing as a team, and we're getting better each match. "
When Tonganoxie began its first match against Kansas City Christian, it was clear from the beginning that the team had worked on some things in practice.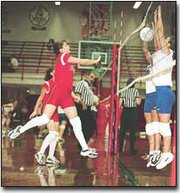 The week before, the team had had some problems getting the third hit over the net. Coach Alexander had said the team was going to work on that.
On Saturday, the team came out right away with some long volleys. Even if the spikes weren't there, the Chieftains would find a way to get the ball over the net and keep it alive.
Toward the end of the first game, the team was beginning to get a feel for keeping the ball in the air. It won that game 15-12.
The team definitely had a feel for the ball in the second game, winning that one 15-2.
The team dropped the match to Effingham, losing with games of 15-11 and 15-11.
In its match against Hiawatha, the Chieftains lost the match 15-7, 15-6.
In its next match against Great Bend, a similar turnout looked likely as the Chieftains dropped the first 15-4. But in the second game the Chieftains came charging back. They were ahead 12-4 at one point but Great Bend, which took third in the tournament charged back and scored the rest of the points of the game, winning it 15-12.
In its last match of the tournament, the Chieftains went up against Kaw Valley League rival Perry-Lecompton, which had beaten them earlier in the week.
Against the Kaws, the Chieftains again found the touch, winning the match in two games of 15-11.
"I think the girls really feel like they should have beaten Perry," she said. "It was really good for them to go out there and win against them."
Tonganoxie's Aimee Eisman was name to the all-tournament team.