Season impresses first-year girls basketball coach
Chieftains letter-winners recognized at banquet
When Tonganoxie High School's girls basketball coach looks back on this year's team, she'll likely remember how much heart these players have.
"They could be down by 20 at halftime and come back and win anyway," said coach Leslie Foster.
To mark the end of the 2000-2001 season Foster's first as a Chieftain coach the team was recognized with an awards banquet last week.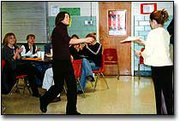 With only one senior to help her lead the team, Foster guided the girls through a rough mid-season losing streak all the way to the Class 4A Sub-State Championship game. Although the girls fell short in the championship game, Foster said their strong post-season run showed the team was much better than its 10-13 record.
"That's really deceiving," she said. "We only lost to Immac by four. We lost to Piper by four and only lost to Bonner by seven."
Moreover, the team surged into sub-state with a 22-point blowout of Mill Valley in its final game of the season, walked all over Perry-Lecompton in the first round of sub-state and knocked of the tournament's top-seeded Jefferson West in the second round.
Another big win, 47-22, for the Chieftains was over Santa Fe Trail on Feb. 16. Before the season, Foster had said beating that team was one of her goals.
During the awards banquet, Foster praised members of the junior varsity team for their determination.
"They got beat on by the varsity squad every day and beat on them and I just appreciate all their hard work," she said.
The junior varsity squad posted an 8-9 record for the season. It averaged 37 percent shooting from both the field and the free-throw stripe, 33.7 points per game, 27 rebounds per game and 12 steals per game.
Earning junior varsity participation awards were freshmen Sarah Holliday and Michelle McWilliams; sophomores Abbie Jones, Laura Korb, Christie Menhusen, Megan Needham, Jessica Pearson and Jennifer Reischman; and junior Erin O'Brien.
Varsity team members earning letters were:
Junior Aimee Eisman. It was Eisman's second letter of the year, having earned one earlier for volleyball. Foster quipped that Eisman spent so much time diving on the floor during basketball games, that she might have thought she was still playing volleyball.
Junior Andrea Korb, who finished in the top two on the team in all but one statistical category. She shot 100 percent from the line in four separate games and scored a career-high 30 points against Perry-Lecompton on Jan. 31.
Korb made the All-League team and was named All-State honorable mention.
"She's a great player to coach and a great person to be around," Foster said.
Junior Jasmine McCaffrey, who was one of the team's best shooters and who led with the fewest turnovers on the season.
"She works real hard for us in the off-season," Foster said. "And I appreciated everything that Jasmine does for us."
Erin Seymour, a junior, who shot 100 percent from the line in three different games. Foster said that Seymour was one of the team's best outside shooters, and that Seymour's contribution to the team went further than that.
"When she was a freshman and I was the freshman coach, whenever we ran a box and one, she was the one," she said.
Junior Alicia Stauch, who finished in the top two in four statistical categories this season. Foster said she could tell Stauch had worked hard in the off-season.
"She has become a great defensive player," Foster said. "It's been like night and day from last year."
Junior Keri Walker, who was the team's go-to spot shooter this season and was almost always money from anywhere on the baseline. She had three games in which she was perfect from the line, and she became a defensive stop for the Chieftains.
"She works hard," Foster said. "Sometimes she was playing the toughest players on the other teams."
Senior Kristin Korb, who led the team in blocked shots and was the team's utility player, seeing time from point guard to center.
"The last player to get her letter is the only senior to stick it out for four years with the team," Foster said.
Team's managers Holly Casper, Tara Gurss and Courtney Hoffhines.
"These next three people provided class and clean towels once they figured out how to run the washing machine," Foster said. "And we appreciate everything they did for us.'
Foster then gave certificates for the top two finishers in each statistical category and announced the winners of awards given the team from the WNBA, the Lawrence Journal-World and Gatorade.
After that, she presented Kristin Korb with a red Chieftain towel with her name and jersey number on it, and then turned the presentation over to juniors Andrea Korb and Keri Walker, who had some surprises for their departing senior member. They gave her several games, including Operation, which they said might help with her medical school aspirations.
Kristin Korb then presented Foster with a basketball with a personal message written on it.