Watching the water
Woman lauded for stream-monitoring program aimed at children
No one can live without water. It's in everything, and needed for everything, that's alive. And, thanks to one area woman, local children are learning how to make sure this important resource is preserved for future generations.
Alison Reber, daughter of southern Leavenworth County residents Nancy and Richard Smith, started the StreamLink program four years ago to do just that.
And now, the Kansas Wildlife Federation has named her Stream Monitor of the Year for her success in helping spread the program throughout the area.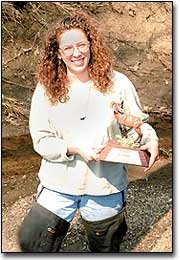 StreamLink was designed to promote water conservation awareness and to teach school-age children how to keep this piece of the ecosystem intact.
"I think it's very important for kids to understand this very vital natural resource and how it can affect other resources," said Reber, education coordinator for the Kaw Valley Heritage Association.
She said children learned to do that by stream monitoring, or testing the water of area streams and watersheds.
"The first thing they do is background research on the creek or stream they are monitoring," she said.
After the children have learned something of the stream's history, they then go to the site to begin testing.
Once on-site, children visually, then physically, assess the water. They check for things such as the water's temperature and flow and how muddy it is.
They look for elements such as oxygen, nitrogen and phosphorus in the water.
Although the actual testing is important, Reber said that the processing of that data was just as important maybe even more so.
"Data sheets are important because kids need to understand that science is not a helter-skelter process," she said.
She said that learning to record data uniformly would help children in any area of science they might choose to study.
Also, because of the uniformity of the data sheets, all area schools report back to the KVHA the same types of information on all area streams.
This is where the Link part of StreamLink comes into play.
All that information is then stored in a constantly updated database, which, Reber said, is helping to map the river system of the Kansas River Valley.
Children also keep journals as part of the program. Reber said this was to help them learn to appreciate more than just the science aspect of nature. In their journals, children write about the things they see, and about how those things make them feel.
"It helps them develop a lifelong love of nature," she said.
Reber attended Tonganoxie schools from the fourth to the seventh grade. Her father is a Tonganoxie accountant, and her mother operates an heirloom garden at the family homestead along Kansas Highway 32 west of Linwood.
In junior high, Reber transferred to Lawrence schools and earned her diploma from Lawrence High School.
She earned a bachelor's degree in environmental studies from the University of Kansas and has pursued a master's degree at Washburn University though she said she had no plans to finish that degree.
"At this point, I don't see any reason to," she said. "I've worked for KVHA for four years."
She was hired by KVHA specifically to start and run the StreamLink program, and her success at that was the main reason the Kansas Wildlife Federation chose her to receive the award.
According to the federation, though, several other factors played some role in her earning the award.
Things like starting the StreamLink Website (www.streamlink.org), securing funding for continuing the organization's programs and organizing day camps for area children also played a role.
Reber said that though she was honored to have won the award, the true reward for what she's done with StreamLink is seeing area youth learn something about their environment and how to keep it around for years to come.
"The program is an important addition to environmental education in the state," she said. "And I think the kids learn a lot from it."