Batter up!
Parents in McLouth raise $20,000 for ball programs
When McLouth booster club members decided to raise money to start a high school baseball and softball program, they didn't mess around.
A year and a half and more than $20,000 later, their goal has become a reality.
For last Thursday's grand opening and the teams' first home games, parents, students, players, well-wishers and even former Royals pitcher Dennis Leonard, showed up to cheer.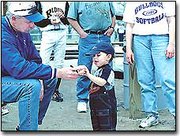 Leonard, known for his 130 wins from 1975-1981, was named three times as the Royals' pitcher of the year. Today, he lives in Blue Springs, Mo., and coaches baseball at Raytown High School.
Leonard praised the McLouth booster club for starting up the teams.
"It's a heck of an accomplishment for a small town," Leonard said. "They raised quite a bit of money for that."
When Leonard began autographing baseballs, McLouth baseball players were among the first in line.
Giovanni Byer called the startup of baseball a great experience.
"And for me being a senior, it's really good," Giovanni said. "After the fall sports were over with, we had something to look forward to, something to do."
Chase Coffin said he was glad to see baseball and softball added to the high school.
"There's more sports to compete in now," he said, "And a lot of people wanted a baseball team in McLouth and now we have one."
Keith Miller, head coach for softball, said, he was happy to see booster club members' work brought results.
"There's been a movement here to get baseball and softball," Miller said. "The boosters put together a proposal and the school board approved it. The parents have been great. They did all the fund raising."
Jean Rush, McLouth superintendent, praised the booster club members.
"Talk about dedicated parents," Rush said. "I've never worked with a group of parents who have been as dedicated and supportive as that group."
Kim Nitzsche, a booster club member who helped with fund raising and planning activities, said McLouth already had a good summer baseball program, operated by the recreation commission.
"This is something we wanted to start for the kids in high school," Nitzsche said. "The high school baseball and softball, they've never had it before this is history."
The group had approached the school in years past, she said, but because of the district's tight budget, no program was established.
"So we decided if the board would allow us to try to raise the money, we would," Nitzsche said.
The booster club estimated it would take about $28,000 to run the program for the first two years. This would cover equipment, uniforms and salaries. The first year in which equipment and uniforms needed to be purchased, would be the most expensive, she said.
"We've raised more than $20,000 at this point," Nitzsche said. "So we've got it through the first year and we've almost got the second year covered."
Fund-raising events the group held included a bird dog trial, volleyball and basketball tournaments, concession stands, selling suckers, catering school dinners and hosting a semi-pro football team, the Kansas Plainsmen, for their 20-game season. The group made more than $7,000 from ticket sales and concession stand sales during the Plainsmen games.
"It's been a lot of hard work," Nitzsche said, "But the people have been so great and we've had so many people helping us when you ask people, it's amazing how willing they are to help you when it's for the kids."
From the project's original intent to start a baseball program they've branched out, buying a tackle sled for the middle school's football program and hosting after-game dinners for the football team. The group also hosted an awards banquet for high school and junior high teams and cheerleaders.
"We are also talking about doing other things for the grade school area," Nitsche said.
The long-term future of the baseball and softball teams is uncertain, Rush said.
"The board of education did approve the new program, provided that the funds are raised for two years," Rush said.
At the end of two years, the board will evaluate student participation and student interest in the program, as well as cost.
"The biggest concern we've had as a school district is that funding has become tighter," Rush said. "We re-evaluate things with much more scrutiny, so to pick up another sport out of the existing budget will be extremely difficult to do."