Chieftains lose in first doubleheader
When Tonganoxie matched up against Basehor-Linwood Thursday at the Leavenworth County Fairgrounds, it was a battle of two vastly different softball teams.
Tonganoxie started three freshmen against Basehor-Linwood in its season-opening doubleheader. Basehor-Linwood only lost one player from last year's squad that finished third in the state.
Freshmen Katie Jeannin, Sarah Holliday and Michelle McWilliams all started for the Chieftains.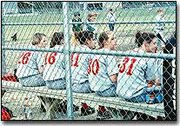 The Chieftains lost both games of the doubleheader, 0-7, 0-10.
The game featured strong pitching by both teams.
Tonganoxie's Jeannin threw 10 strike outs in her high school debut, but seasoned Bobcat pitcher Courtney Reed stole the show, striking out 29 Tonganoxie batters.
Coach Mark Mall said that Laura Samuels also performed well in the one inning she pitched.
His young team just wasn't able to keep up with the level of defense Basehor-Linwood played, Mall said.
"The pitching was a whole lot harder, changed speed more, and they just played tough defense," Mall said.
That defense held the Chieftains to five hits in two games.
Getting hits for the Chieftains in the first game were Sarah Subelka and Jeannin. In the second game, McWilliams, Jeannie Bundy and Jeannin each had a hit.
Mall said he was particularly impressed with Subelka's performance at the plate.
Although the Chieftains lost by a combined score of 0-17, Mall said the games were closer than the scores indicated.
"Take away a couple big innings, and we are right there in both games," he said. "We played pretty tough."
Mall was referring to the Bobcats three-run fourth inning in the first game and to their five-run explosion in the sixth inning of the second game.
He said although his team had played hard and it had talent, it will take practice and game experience to mold the group into the team it has the potential to be.
"They've got a long way to go yet," he said. "Defensively, we're still making a lot of the same errors. Offensively, it's just going to take some time for them to adjust."