There is a constant but professional murmur in the ninth-grade English class of Denise LaRosh.
At a table near the front of the room, four students, also known as the editorial staff, read prospective magazine articles.
Nearby, three students work on marketing strategies, and plan how to advertise and sell their upcoming magazine.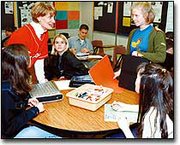 And next to them, the graphic arts staff plans the designs for the slick cover and inside pages.
At individual desks in the room, reporters hone drafts of their stories and poems.
From the teacher's desk at the front of the room, a payroll clerk keeps tabs of stories written and hours worked. "Employees" who leave the room on breaks check in first with the payroll clerk. Students come and go as they head to the computers to type copy or go to the art room to lay out the pages.
Clearly, it's anything but business as usual in this junior high English class.
LaRosh said each of her three ninth-grade classes will see the fruition of a monthlong magazine publishing course next week when the publications roll off the press.
An educators' conference she attended in February sparked her interest, she said.
The magazine project, she decided, could add new meaning to the lessons worked on in class.
"We've gone through narrative, persuasive writing, descriptive writing and expository," LaRosh said, explaining that she had been searching for a way to motivate her students to want to write.
"I thought if I could get them to feel that they are writing something that someone other than myself will be reading and publish it in a magazine, it just might work, it might get the kids excited," LaRosh said.
Planning pays off
With fewer than three months of school left, she knew she'd have to work fast to implement the plan. And, she knew, in order for the students to succeed, her plans would have to be foolproof.
"I stayed up till 1:30 in the mornings and I'd get up at 5 in the mornings and do more work on it," LaRosh said. "In one way I was dragging, but in another way I was pumped."
Her planning paid off.
"Now that it's rolling along, they've taken charge and I don't have to stay up until 1:30 in the morning anymore," LaRosh said.
Here's how it works.
Students filled out job applications, which LaRosh then mailed to a friend in western Kansas who works at a newspaper for help in "hiring."
Students are paid in points, which are referred to as dollars.
A short story can be worth $50, a poem, $10 to $25, depending on the length. A memoir, personal narrative or editorial can earn $35.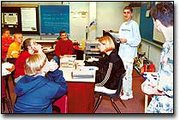 The editorial board selects which pieces will be used and after they are typeset by another crew, the copy will be put on pages before being sent to the printer.
Salaries range from $15 an hour for the managing editor to $5 an hour for reporters. But promotions and corresponding pay increases are allowed.
Students in the class, also known as reporters, submit their story ideas or drafts to the editors, three or four students who read the stories, advise writers to make corrections or changes, and, finally, select stories for publication.
A glossy publication
LaRosh arranged with Legal Printing to print the magazines at cost. And the students are taking orders for the $3 magazines, which LaRosh said will cover the cost of printing.
The 30-page magazines will be complete with a glossy cover, one designed by each class. Titles of the magazines, selected by each class, are: O.N.E., Second Zap! and Twenty-O-Four.
Students on the editorial board take their work seriously.
When Matt Peterson reads his classmates' stories and poems, he looks for repetitive words or grammatical errors.
"It usually just needs to be longer or needs to have better grammar in it," he said. "A lot of the stories we give back because they're way too short."
The response?
"Some of them aren't too happy," Peterson said. "But they deal with it."
Shane Cooper said it's difficult to ask a reporter to do more work to make the writing better.
"It's hard," he said, smiling as he tapped his pencil eraser on the table. "But I do it anyway."
Kristen Howard, a staff writer who likes to write about sites on the West Coast, said she's learning more about writing.
"It's kind of helped me to know how to write a paper in a certain way," Howard said. "I learn how to set up a paper through their format, to know punctuation, that kind of stuff."
Making learning fun
Sitting quietly at her desk, Ashlie McGhee worked on an opinion piece on abortion. She thought the magazine project was a good idea.
"It's better than just sitting in a classroom learning," McGhee said. "This is more fun."
Stephanie Downs said her job is to type the reporters' copy after the editors have approved it.
"I think I'm well-fit for the job," Downs said. "But I'm not as fast a typist as Jamie Vaughn."
The best rewards for her, she said, were clear-cut.
"Probably it's having my typing skills get better," Downs said. "And to communicate with other people."
Tim Leffert, a managing editor, said the project has been a good experience.
"It's like you're almost in a real job here," Leffert said. "We had to apply for the jobs and we got the jobs based on our qualifications."
For the most part, his natural inclination to be a leader has helped, he said.
"I just like things done right," Leffert said. "I like things done my way, but that's not really good. I like making sure everybody's doing what they're supposed to do."
In the evenings, the managing editors take students' work home to edit. Leffert said he's been reading 15 to 20 stories a night.
"I've been learning a lot about my classmates by reading how they write and what they write," Leffert said.
Luke Rounda and Derek Sparks are also managing editors.
"I have to edit everybody's stuff," Rounda said, "and while I'm doing that I have to put up with payroll clerks, word processors, graphic artists and staff writers."
Brianna Deaver, a graphic artist, called the magazine experience "mind-expanding."
"This project opens up new creative flows," Deaver said. "And it helps me realize maybe the career steps I might want to take."
For LaRosh, too, who has ultimate control of the magazine production, and who actually assigns the grades, the project has been refreshing.
"The fun thing, for me, is that sometimes teaching gets to be kind of tedious," LaRosh said. "You have papers to grade, your planning to do, and then you get an idea like this and it just kind of revives you."
The best part of all, though, she said, has been in watching her students.
"I guess the most exciting thing for me is to see these kids taking charge of this and working with each other and helping them improve their writing," LaRosh said.
Leffert agreed, and said:
"I think she is pretty gutsy to leave it to the students to reprimand themselves, to keep control of themselves on a day-to-day basis."