Construction continues on mobile home park
In about two months, a new mobile home park is slated to open in northwest Tonganoxie.
The wet winter and spring have slowed the project, according to Steve Sturgeon, who is developing the park west of the intersection of U.S. Highway 24-40 and Smiley Road.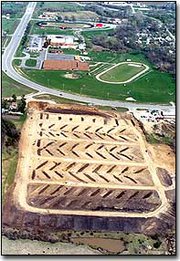 "Actually, had the weather really cooperated with us, we'd be open by now," Sturgeon said.
More than five months into the project, Sturgeon said he's eager for the 91-lot park to open. About five of the 23 acres will feature open space on the south side, where a creek bed runs through the property. That portion cannot be developed because of flooding concerns.
"There's a whole area back there that's for picnics, walking trails, that sort of thing," he said.
In November, the development plans for the park spawned protests by area neighbors. But city officials said there was little they could do to prevent the development because the land had been zoned for a mobile home park since 1978 and because Sturgeon was following city regulations pertaining to mobile home parks.
This week, sewer pipes are being run to each lot.
"Next week," Sturgeon said, "they will start putting in the pads that the mobile homes will actually sit on."
Sturgeon said he's already nailed down commitments from people eager for the park to open.
"Based on the demand level that we've already had, I don't anticipate a problem filling it up," he said. "It's very difficult to get one of these built. Therefore, there haven't been very many of these built. That mean's there is a pent-up demand. It may not fill up overnight, but I think it will fill up quickly."