On the railroad
Tonganoxie woman retires from a job she loves
Fifty years after starting her first job, Lorena Seymour is ready to see the world.
Her planned retirement itinerary includes separate trips to Switzerland and France.
She wants to stand beneath the Eiffel Tower in Paris and see if it looks as large in person as it does in pictures. She wants to see the vineyard her ancestors started in France. In Switzerland, she wants to do more than see the Alps: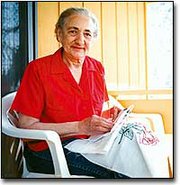 "I want to ski the Alps," Seymour said.
And in her spare time well, she says, maybe she'll be content to sit at home in Tonganoxie and make quilts for her grandchildren.
Even so, now only about three weeks into retirement, Seymour says she doesn't know if retirement is the life for her. The most difficult part will be to get up in the morning and not have a purpose or a place to go.
"I think it's going to be awfully hard for me," she said.
At an early age
Seymour, 65, worked in the Kansas City, Kan., railroad yards for 50 years. Because she had attended a one-room schoolhouse, started first grade at age 5 and took seventh and eighth grades in the same year, she graduated from high school at 15.
A month later, on June 7, 1952, she started working for the Rock Island Railroad in Kansas City, Kan.
Because she lived 30 miles away, between Basehor and Tonganoxie, and she had no car, her father would drive her each day to Victory Junction to catch a bus.
"Then, a few months later, I finally saved up enough money to get a car and I drove back and forth by myself," she said.
The sights and sounds
She quickly grew accustomed to the sights and sounds of the railroad yards, sights and sounds she now misses.
"Once you've worked around there, you always miss the sound of the whistles and the chuck-chuck of the wheels and the swoosh of the air brakes," Seymour said. "I go to Lawrence and I see the train sitting there on the siding and I think, oh my. And I love to go to my daughter's house in Olathe where I can hear that old Burlington going by."
As she speaks, Seymour gestures with her hands. Her ready smile accents her striking dark eyes.
Life has been good, she said.
She's grateful that in her 50 years of commuting, she never had an accident. She's grateful for having worked at a placed she loved. She's grateful for the support system of a loving husband and reliable baby sitters who enabled her to hold down a full-time job even when her four children were small.
No excuses
Seymour said her work was a lifesaver after her husband, Bill, died in the spring of 1985.
She had kissed him goodbye as he worked in the garden.
But by the time she drove away and turned the corner, he was gone.
Devastated at losing him, she wanted to stay in bed forever. But two weeks later, her boss called and said she would be at work Monday no excuses.
"It was hard, I was angry at him for saying that," Seymour said. "But it was the best thing for me. My job was really what I needed after he died it gave me a purpose in life."
In fact, five years later, after her youngest child had graduated from high school, she took a second job at Wal-Mart in Bonner Springs.
She took the job for companionship, and to keep busy. Because when she was at home, she said, her husband was always on her mind.
Take me out to the ballgame
She had met Bill, who lived in Tonganoxie, when his mother arranged for him to take her to a Kansas City A's baseball game at the old stadium in Kansas City, Mo. The Yankees were playing.
"It was a blossoming romance after that," Seymour said. "How could you not love Bill?"
She was 21 and he, 31, when they married.
He was perfect, she said, remembering how he would wake up in the morning happy.
"Every day you could hear him singing in the shower," she said.
Bill Seymour operated the Hy Klas grocery store on Fourth Street, where Outback Video is today. Later with Jim Gambrill, he opened a grocery on West Street.
Always eager to learn
During her years on the railroad, Lorena continued to learn new things.
"I went through all the technologies of the day and age," she said. "I started with Morse code and key punch, which was teletype, and ended with computers."
She started work there as a switchboard operator and worked on "the old, original switchboards," she said.
Later, she worked in the superintendent's office as a record clerk, and still later worked in the round house as a diesel clerk.
"I learned all about the motors," Seymour said. "I really enjoyed that."
After that, she worked as the chief clerk.
She looks back on her 50 years.
"It was a job I loved," Seymour said. "All of my jobs I loved."
Good friendships
And she liked the railroad employees with whom she worked.
Seymour said that after last year's May 11 tornado, co-workers called her, wanting to know if she needed their help.
And she plans to stay in touch, joining the railroad retirees once a month at Harrah's casino.
Generations melted one into another during her time working on the railroad, she said.
"Some of the guys have died that I started out with, and their kids are working down there now, that's the way it is after that many years," Seymour said. "It's a long time, but it really doesn't seem that way."