Softball record improves to .500
Lady Chieftains win in last three games
After struggling in its opener against Basehor-Linwood two weeks ago, the Tonganoxie High School softball team surged last week, going 3-1 to even its record at 3-3.
The team won three in a row after beginning the week with a 12-0 loss to Mill Valley last Thursday.
In that game, the first of a doubleheader, pitcher Katie Jeannin logged four strikeouts, but she also gave up 10 hits in Mill Valley's 32 at bats.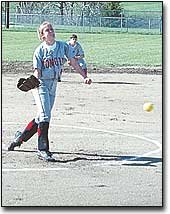 She didn't get much help from her team in the batting department, though, as the Chieftains went 3-23 from the plate, a .130 average.
The game was closer than the score indicates. The Chieftains only trailed the Jaguars 0-1 after three innings, but the Jaguars exploded for 11 runs in the last four innings to take the game.
"The biggest thing we need to work on is hitting," said Coach Mark Mall. "But we're still a young team."
Young team or not, the Chieftains played like pros in the next three games, winning them by a combined score of 22-7.
But in the team's second game against Mill Valley, it was defense, and not runs, that won the game for Tonganoxie.
After giving up four errors in the first game, the Chieftains plugged all holes in their defense and played seven innings of errorless ball.
Jeannin pitched all of those innings, giving up only one earned run.
That run came in the first inning, after which Tonganoxie put the clamps on Mill Valley and used a two-run third inning to take the 2-1 win.
Jeannin gave up six hits, walked two batters and had two strike outs in the game.
But she was only warming up.
Four days later, on Monday, Jeannin threw her second one-run game in a row, hurling seven strikeouts to help the Chieftains take out Jefferson West, 5-1.
But Jeff West held its own on the mound, and the score was 1-1 after three innings.
And after a scoreless fourth, Tonganoxie took off, scoring four runs in the final three innings for the win.
The win brought Jeannin's ERA to .270 and her record to 2-3.
Laura Samuels took the mound for the second game against Jeff West, and though she gave up five runs and only had one strikeout, she kept Jeff West at bay.
That's all she had to do because Tonganoxie's bats were on fire. The Chieftains batted .469 in the 15-5 win.
Samuels herself went 1-3 from the plate, got on base twice, scored one run and drove in one.
Kristin Korb went 3-4 and had three RBI. Through six games, Korb leads the team in hitting at .353.
Michelle McWilliams also went 3-4 from the plate. She scored four times, had one RBI and one stolen base. She's close behind Korb, batting .294.
Jeannie Bundy went 3-5 in the game, scoring three of the Chieftains' runs and pushing her season average to .300.
Kim Newton went 2-4, drove in three runs and pushed her season average to .158.
The win was Samuel's first full game. Her record is 1-0 and her ERA is .300.
"It was a big week for us," Mall said. "I don't think Jeff West is as strong as it has been in the past, but still, we played well."