Claiming its fourth top-two team finish in as many meets, Tonganoxie High School's boys track team earned second place Friday at Eudora's Cardinal Relays, barely missing gold and beating third-place Eudora by 32 points.
Tonganoxie scored 103 points, just 13 behind winner Sabetha. Coach Phil Williams said his team did a good job and that, had it not been for injuries, the Chieftains could have beaten Sabetha.
"Really, if we'd have been healthy, we could have had a chance to win on the boys' side," Williams said.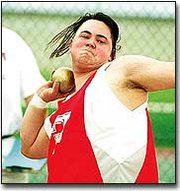 Missing from the Chieftain line-up was Karl Cleavinger, who spends most of his time on the pole vault medal podium, and middle-distance standout Jacob Hoffhines.
But neither athlete was injured severely. Cleavinger injured his foot in practice, but has already recovered. Hoffhines had minor leg muscle problems, and was held out as a precautionary measure.
"He was feeling tightness in his hamstring and we didn't want to take a chance on him injuring it," Williams said.
But though the Chieftains barely missed team gold, several members had outstanding days, including 12 who finished in the top three in their events.
Two Chieftains, Sheldon Trieb and Kyle Norris, brought home gold medals for the team.
Trieb helped to continue Tonganoxie's dominance of the pole vault, capturing gold with his 12-foot vault.
Norris, who didn't even compete in the 800 meters a week ago because of fatigue, drilled the competition on Friday with a time of 2 minutes, 10 seconds.
The Chieftains also brought home four second-place medals.
Dustin Schultz, who also cleared 12 feet, finished behind Trieb to earn one of those silvers.
The other three were earned by Aaron Knipp in the discus, Tony Miller in the shot put and by Norris in the 1600.
Bringing home bronze for the team was Kent Clubine in the shot put, Shane Howard in the high hurdles, the 400-meter relay team, Ryan Hatfield in the triple jump and the 1600-meter relay team.
Williams said he was glad to see his team now healthy and at top form, because they will need to be both at Friday's Gardner Invitational.
"It will be our toughest meet so far this year," Williams said. "There will be a lot of teams we haven't seen yet."
Among those teams is Mill Valley, which is also the only Kaw Valley League team the Chieftains have yet to face and beat.
"It will be a great chance to see how we match up with them," Williams said.