Fire kills elderly resident
Probe continuing into Sunday morning blaze
An elderly Tonganoxie woman is presumed to have died in a house fire early Sunday morning.
Sgt. Charlie Yates, of the Leavenworth County Sheriff's Department, said the victim is Roxana Smith, 89, who lived at 22352 211th St., four miles north of Tonganoxie.
"Right now, we're assuming that's who it is," Yates said. "We're still trying to make some positive identification by looking at medical records and some of the items on her person at the discovery, such as a watch and a ring."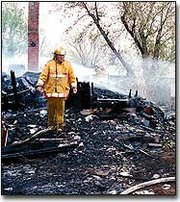 An autopsy report stated that Smith died from smoke inhalation, Yates said. An obituary appears on page 2A.
The fire was reported at 5:56 a.m. Sunday by a neighbor who lives about a quarter-mile from the Smith home.
When firefighters responded, the two-story home was already fully engulfed, Yates said.
Not knowing whether Smith, who lived alone, was in the house, officials spoke with relatives, none of whom knew her to be away from the house.
"We were able to establish, from relatives at the scene who drew up a floor plan, where she would sleep during the nighttime hours," Yates said. "We started at that area of the house."
By around 9:30, the fire had been extinguished enough that firefighters were able to search what remained of the house, Yates said.
The state fire marshal for northeast Kansas, Wally Roberts, assisted in the investigation and arrived at the scene about 9 a.m. About an hour later, Smith was found in the bedroom area of her house.
The fire completely destroyed the house.
Yates said that the origin of the fire is unknown.
"Right now, investigation has basically ruled out any aspect of arson or foul play," Yates said.