Girls finish third at Eudora; ready for Mill Valley Friday
Last week, Girls Coach Bill Shaw said that Friday's Cardinal Relays would be his team's toughest meet of the year.
The team traveled to Eudora with high expectations. After all, the team did open the season with three team championships in as many meets.
And although they finished third, Shaw said he was impressed with how his girls did at the meet.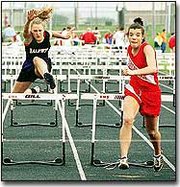 "I think we're real pleased with their overall performance," Shaw said. "It was the toughest meet we were in, and we finished third overall. We had some girls really step up. Even though it was windy, we had some people get their very best times of the year."
Shaw said that Aimee Eisman continues to impress him. She continued her hurdle domination, grabbing gold in the 100-meter hurdles and silver in the 300-meter event.
Eisman also finished fourth in the triple jump.
Brittany Jerome is another girl who's helping the Chieftains dominate the hurdle events, earning third in the 300-meter event. She also finished sixth in the triple jump.
"She's really worked hard," Shaw said. "She's improved in her performance, and her times are coming down."
Shaw said that Jennifer Reischman also has helped the team in hurdles. She finished second in the 300-meter hurdles and fifth in the 100-meter hurdles.
Reischman is one of four girls who Shaw said had competed injured at Eudora. Reischman, Alicia Stauch, Keri Walker and Amanda Chenoweth have all sustained minor leg injuries from "pounding on the track every day," Shaw said.
"Hopefully, they'll be rested up and 100 percent on Friday," Shaw said.
The team travels to the Gardner Invitational this Friday. There, the Chieftains will meet up with De Soto's Mill Valley.
"We've beat everybody else in the league so far, but we haven't faced Mill Valley yet, and I hope we fare well against them although they're supposed to be pretty good," Shaw said.