By day he works as a flight mechanic for an airline that transports convicted criminals.
But by night Tarry Boudreaux works on Creolations, a new Cajun spice business he and his wife, Jamie, are operating from their home in Oklahoma City.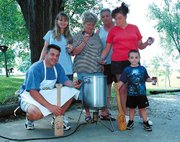 Boudreaux, who looks as if he'd be more at home on a football field than in a kitchen, has been around good cooks all his life. But it's his father's cooking ability, he says, that fired his own desire to start this business.
"Nobody cooks like my dad," Boudreaux said. "Mom and Dad both cooked, but Dad had a lot of Cajun recipes."
His parents, Jules and Mary (Robbins) Boudreaux, met in Kansas City at a trucking business where they both worked. Jules was from Louisiana.
"Dad was born and raised in New Orleans," Boudreaux said. "He's a true Cajun."
Tonganoxie traditions
But when Tarry's parents married and moved to Tonganoxie, Jules searched for honest-to-goodness Cajun spice blends, and found none to his liking.
"Some stuff you buy just doesn't have the flavor that you want," he said. "When you mix your own, you get exactly what you want."
So the Boudreaux children, Tarry, Missy and Julie, grew up on a diet that included their father's home-mixed spice blends.
"My dad has made spices probably once a week," Tarry said. "When I went out on my own, I couldn't depend on him just to hand the spices to me, so I developed mine from what he had done."
His secret recipe contains natural ingredients. But unlike numerous flavorings on the market, it's salt-free.
"I use a blend of 10 herbs and spices," Boudreaux said. "Most of them on the market today have four ingredients."
Boudreaux said Creolations is not an overbearing hot spice. It's the perfect blend of spices to add to honey-coated chicken breasts before grilling, he said.
"But it has enough spice in it that it's going to tingle your tongue," he said. "The more you put on, the hotter it's going to be."
New on the burner
A year ago, the Creolations business was still in the planning stages.
"I've been working on this label and this product for over a year," Boudreaux said.
Boudreaux had to apply for manufacturer's and retail licenses, as well as find a professional kitchen to rent where in an eight-hour day he can mix and bottle about 500 bottles of Creolation.
The start-up costs have been substantial, but not prohibitive, he said.
"It's not like going out and buying a building and all that and hiring employees," Boudreaux said. "But as far as an independent investment, it takes a lot."
Next, he plans to branch out with spices blended specifically for pasta and chicken. Boudreaux also plans to start selling a line of wooden Cajun cookware large stirrers to use with the traditional oversized cooking pots.
Their son, Henry, 12, will decorate the stirrers with woodburned designs.
He's also selling a CD of Cajun music and plans to come out with a cookbook of Cajun recipes. Jamie's recipe for Cajun Creoljitas is printed on the back of each jar of spices, and Boudreaux plans to add other recipes to the labels.
Marketing has included an ad in Chile Pepper magazine, as well as a Website: www.creolations.com.
With the business just launched this spring, Boudreaux said he's optimistic about Creolations' future.
So far he's sold about 500 of the 2-ounce bottles of Cajun spice. Most sales have originated through the Internet and by word of mouth.
To spread the word further, Boudreaux plans to set up a booth at the Oklahoma state fair.
'Midwest' traditions
Boudreaux is the grandson of Ralph and Ruth Robbins, Tonganoxie. In the 1960s, the Robbins started up Midwest Carpet, which has branched into family businesses of Midwest Insulation, Midwest Health Center and Midwest Athletic Club. Boudreaux jokes about Creolations becoming a part of the "Midwest" clan.
"We thought about naming this 'Midwest Creolations,'" he said. "But that just didn't sound Cajun enough."
He envisions growth in his newfound company's future as taking him right up there with longstanding spice distributors.
"We compare Boudreaux to McCormicks and Schillings," Boudreaux said. "One of these days that's where we'll be."