Turnpike accident clogs 24-40 highway
Hundreds of vehicles routed through Tonganoxie
After a westbound semitrailer wreck on Interstate 70 blocked turnpike lanes on Friday, an unexpected onslaught of traffic inundated Tonganoxie.
The accident was three miles east of Lawrence, said Kansas Highway Patrol Capt. Mark Conboy.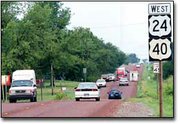 For two hours, much of the turnpike's traffic between Bonner Springs and Lawrence was diverted through Tonganoxie.
Tonganoxie Police Chief Kenny Carpenter likened the intensity of traffic to what had been predicted during Kansas Speedway event weekends.
"You could compare it to what we thought we were going to have then and didn't," Carpenter said.
While the four-lane areas of U.S. Highway 24-40 can accommodate extra traffic, the lanes at the intersection of U.S. Highway 24-40 and Kansas Highway 16 can't.
"You have four lanes turning into two lanes right in the middle of town," Carpenter said. "And so it's hard for the signal light to keep up."
To help move traffic through Tonganoxie, officers from the Leavenworth County Sheriff's Department funneled southbound traffic down to two lanes at Second Street, and Tonganoxie police officer Cecil Vineyard stood in the middle of the intersection and directed traffic from about 9:30 a.m. until about 11:30 a.m. Conboy said there were multiple accidents on the turnpike during and after Friday morning's rain that slowed traffic from Topeka to Kansas City.
"We probably had at least 15 rain-related accidents up in that area Friday morning," Conboy said. "They were primarily from people driving too fast on the roadway."
Conboy said drivers don't consider the dangers.
"It just goes nuts up there whenever it starts raining," Conboy said. "People just won't slow down and every time it rains we have a rash of accidents. It's worse than snow, because at least with snow you can see it and slow down."
In the semitrailer accident, Conboy said the driver lost control of his vehicle and struck a wall.
"Part of the cab was sticking over the wall so that was blocking the passing lane on the eastbound side, and it was blocking both lanes on the westbound side. The lanes were totally blocked from 8 a.m. until 11:20 a.m."
William McKamey, 59, Morrison, Colo., was driving a mail truck owned by Midwest Transit, Sumner, Ill. The driver of the truck complained of a possible back injury, Conboy said, and was taken to Lawrence Memorial Hospital by Leavenworth County Emergency Medical Service.