Prehistoric home discovered
Floodwaters uncover pottery, stone tools
On June 13, Scott DeMaranville made one of his regular treks through Leavenworth County, looking for evidence of Indians who lived hundreds of years ago.
The General Motors worker, who for 30 of his 42 years has wanted to be an anthropologist, was astounded at what he found.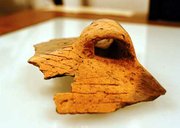 "I was out looking for Indian artifacts and came across an area that had some burned logs in the ground," the Tonganoxie native said. "The ground was scoured and all of this stuff was protruding a half-inch from the ground."
In that 20-foot by 20-foot area, DeMaranville knew he'd made a significant find.
"I knew right away it was a home site, a lodge site," he said.
He called a University of Kansas anthropologist about the site, which had been uncovered by flooding in early June.
"Nobody's seen anything like this in more than 50 years," said Brad Logan the KU anthropologist.
The dwelling dates back to 1000 to 1400, and a volunteer crew worked for more than two weeks to uncover the west and north walls of the nearly 700-square-foot building.
"I had walked over this site 20 years ago," Logan said. "I couldn't think of a site that would intrigue me more."
But years ago when Logan was working on his doctoral thesis, he had no idea that several feet below him were artifacts that included the remnants of the house, a deer jaw, parts of clay pots and stone tools.
In addition, volunteers found a hearth, located in the center of the home, as well as a three-foot-deep cache used to store food for winter months.
"We found the hearth, and that's like finding the keystone," he said.
The Indians who lived in the dwelling were from the Steed-Kisker phase and date to the late prehistoric era.
"I haven't seen a site exactly like this," Logan said.
Apparently the house had burned, likely after it had been abandoned.
"Because it's wood and bundles of grass, it's like a tinder box," Logan said.
If people had been living there at the time of the fire, Logan said, complete sets of pottery and tools would have been found, rather than the pieces that were discovered.
And, ironically, it was the fire that ensured the ruins were intact.
"It takes the burning to preserve it," Logan said.
Once it was burned, it wasn't long before flood deposits covered the remains. And then floodwaters uncovered it hundreds of years later.
"A lot of the right things happened at the right time," Logan said.
Tests now are being conducted on the burned wood to determine their age. Further tests will determine the species of the timbers.
"We can get a better idea about the architecture of these people," Logan said.
The burned timbers, pieces of pottery and tools were taken to the Museum of Anthropology on the KU campus, where they will be the source for years of study.
"It would make a great thesis topic for a graduate student, or more than one graduate student," Logan said.
Logan compares this dwelling to a modern-day farmstead, which stands alone. And based on the size of the structure, a nuclear family or an extended family lived there.
And nearby, another, and likely a much older, site was discovered.
"These were not the first people to live on this spot," he said. "It's a popular area."
Logan would like to return to the site to uncover more of the home.
"I hope to get back to it in cooler months to excavate some more," he said. "I think we've gotten the most important part of the house."
For Logan, it's heartening that DeMaranville thought to call him and that about 20 volunteers worked on and off for more than two weeks to excavate the site.
DeMaranville was at the excavation nearly every day.
"I wasn't going to miss that for anything," he said. "I participated in the dig and just helped out any way I could. It was amazing. It's very tedious work, especially in the heat. It's slow going. It's really fascinating the things they find."
From DeMaranville's point of view, finding arrowheads or pottery pieces helps give him a glimpse at another time.
"It's the age, how old this stuff is," he said. "This particular site, it's close to 1,000 years old. It's the age and what it took for these people to live. It's always amazed me. How hard it was to live and how they survived was amazing."
For years, DeMaranville had found pieces of the puzzle.
"And finally, I found a home where they lived," he said. "I think there are several sites not uncovered out there. It's kind of odd. One flood will uncover it. And a light flood will cover it right back up. It's a right place, right time kind of thing. Actually the creek covered it up years ago and now it's uncovering it again."
Logan and DeMaranville are careful not to divulge the location of the site. They say they're concerned looters or vandals will steal or destroy the artifacts.
"It's a major concern," Logan said. "These sites, once they've been destroyed are gone forever. They are irreplaceable kinds of resources."