Tonganoxie man narrowly escapes injury in farm mishap
A rural Tonganoxie man narrowly escaped death last week when a tractor he was driving tipped over.
Bill Theno had taken his 1466 International and 15-foot-batwing brushhog mower on Aug. 7 to mow a field about six miles northwest of Tonganoxie.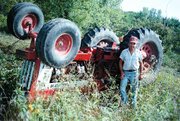 About 3 p.m., he was backing the rig down an incline area which serves as access to the property when the mishap occurred.
"I hit one brake and one brake wasn't enough to hold it," Theno said. "I had to let up on that for a second to catch both brakes. By then it was going so fast that both brakes slid. I tried to steer it but it started to jackknife, so I jumped."
The location he landed was where the 8,000-pound tractor landed seconds later.
"I saw the tractor coming right down on me I just barely got out from under it," Theno said.
But he wasn't out of danger yet. Just a foot or two from where he landed, the mower landed too, and the blades were still going.
"I thought the mower was going to get me," Theno said.
The tractor kept running even after it turned over.
Several hours after the accident, Theno returned to the site with his wife, Susie, and son, Scott, a granddaughter, and a neighbor at the site, Wally Brawner.
Theno said he felt stiff and sore. But he wasn't complaining.
"I was really lucky," Theno said. "Usually you don't come out from under something like this alive. I've seen tractors like this before, but usually the guy under it is dead."
Chuck Magaha, Leavenworth County emergency preparedness director, agreed.
Magaha, who was involved in a farm accident in 1988 while shoveling grain, said he knows firsthand how quickly a farm accident can happen.
"I got caught up in a PTO shaft years ago and I feel fortunate to be able to talk about it today," Magaha said. The machinery caught his clothing and threw him up in the air. Magaha was saved when his arm accidentally hit the power takeoff.
"It stopped it and that's the only thing that saved me," he said.
When operating farm machinery, safety should always be on the operator's mind, Magaha added.
This year, one farm-related fatality has occurred in Leavenworth County. Magaha said Theno is a lucky man.
"Tractor accidents are generally pretty dangerous," Magaha said. "When a tractor goes over with the force it has it happens so fast and it's generally got you before you even realize what happened."
When Theno's wife, Susie, learned about the accident she said she realized how close she came to losing him.
"He told me it was a bad day," she said. "But it was a good day he's alive."