Sunday afternoons at Kansas City's Arrowhead Stadium usually involve grown men scrambling for a ball in soccer or quarterbacks engineering drives toward the end zone in football.
Last Sunday, though, was reserved for youth competing in the MLS Dribble, Pass and Shoot Contest in Kansas City. Tonganoxie's Mitchell DeHoff almost won his division at the event.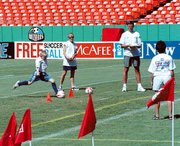 Competing against three other finalists, Mitchell went through the three-part competition and took second in his first year in the event.
The competition was in the afternoon and then Mitchell and the other participants took part in a skill exhibition at halftime of the Wizards-Colorado Rapids game Sunday night. Participants' names were called and then they shot the ball at halftime.
Mitchell, who is 9, said he was nervous in the 70,000-seat stadium, but went ahead with competing.
"I just went out there and did it," Mitchell said.
Mitchell's father, Bob DeHoff, said it was a good day for his son even though he wanted first place.
"He was disappointed," Bob said. "But it was a great experience for him.
The youth prepared for the contest with a dribbling course his father made for him. He was unsure of how much time he spent practicing, but Mitchell knew it depended on his coach's discretion.
"Pretty much my dad made me practice as much as I needed to, actually," Mitchell said.
The 9-year-old started playing soccer in Tonganoxie recreation leagues when he was 4, and he plans to participate in the MLS-sponsored event for the two more years he is eligible.
Mitchell won the local competition April 28 in Tonganoxie and the sectional competition July 14 in Leavenworth before reaching the Wizards championship.