Sam's adventures
Local boy serves as
MDA

Goodwill Ambassador
Sam Denholm's such a busy child it's a wonder he has time for television.
For being on TV, that is.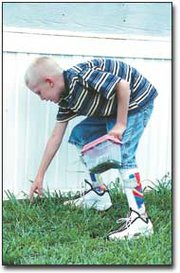 This coming Sunday and Monday, the 8-year-old Tonganoxie boy will, for the second year in a row, serve as a Goodwill Ambassador during the local-portion of the Labor Day weekend Jerry Lewis Muscular Dystrophy Association Telethon.
The event will be aired on KCTV channel 5 from the broadcast site at the Ameristar Casino, Kansas City, Mo. The national portions of the program will be broadcast on CBS from Hollywood. He also participated this week in the filming of a television commercial for Olathe Ford.
Taking it in stride
Last Friday after school, Denholm seemed to be taking his television appearances in stride. His activities during a 45-minute period included catching grasshoppers with his mother, playing in the sandpile with his brother, Thomas, 9, and then washing himself off with a garden hose, and finally, raiding the cookie jar being sure to offer a cookie to a visitor.
Sam looks and acts like an ordinary boy with an abundance of energy and enthusiasm. But he has a health challenge most children don't have. Sam suffers from Charcot Marie Tooth, a condition in which the muscles in his hands, feet and lower legs atrophy.
Sam was diagnosed with CMT at the age of 3. His early diagnosis came about in part because his parents, Greg and Deb Denholm, knew that Sam's biological father and grandfather had CMT, which is an inherited condition.
"We knew about that, but we didn't think much about it until Sam got to be about three years old and he started tripping and falling," Deb said.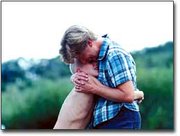 Individuals who have CMT often have foot drop, a condition in which the muscles in the lower leg lose their ability to hold the toe area of the foot up when walking. To help his feet stay in the right position, Sam wears braces on his lower legs. He wears the braces about 90 percent of the time.
Boot and glove disease
CMT falls into the muscular dystrophy category, but it differs from the Duchennes form of MD, said Marilyn Weller, the physical therapist who monitors Sam's condition and plans his physical therapy at Tonganoxie Elementary School.
"CMT results in the disappearance of the fatty shield surrounding the nerves," Weller said. "It's like a multiple sclerosis type of thing."
It's also called the boot and glove disease, Weller said, meaning that it affects parts of the body that would be covered by boots and gloves.
This is different from Duchennes, she said, that the MDA telethons often focus on.
"Those kids with Duchennes would start out to be pretty normal, and then at four or five years of age they start falling down," Weller said. "Their muscle tissue is replaced by fat and eventually it affects their chest muscle."
Because of that they often don't live past the age of 18.
"But CMT is different, because you can have a perfectly normal lifespan," she said.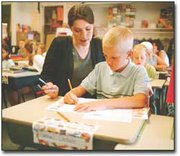 Physical therapy differs between the two, she said.
"With CMT you want to push the kids and exercise them," Weller said. "With Duchennes, you don't want to push the kids too far because they get too tired and it causes their progress to go backward rather than forward."
Planning ahead
The braces, Deb Denholm said, seem to help prevent leg cramping, something Sam has learned to live with.
CMT also affects hands and wrists, his mother said. He has previously worn braces on his hands, but currently is not.
Sam has difficulty with buttons, and opening pop-top cans. The family will soon move into a new house, one equipped with special levers instead of door knobs so Sam will be able to open the doors.
While Sam continues to work on his handwriting at school, he also is starting to learn to type, something that may be easier for him than handwriting if the CMT progresses.
CMT symptoms may remain stable for long periods of time, Weller said.
"A lot of the ones who have it will go through remission where you don't see changes," she said.
For instance, in the two years she's been working with Sam at school, Weller has seen very little worsening of his condition.
The Denholms are grateful for the assistance they've received from the Shriners.
All of Sam's braces are made at the Shriners hospital in St. Louis. Even transportation is provided by the Shriners. The family and others scheduled to go to the hospital on a certain date meet at the Abdallah Shrine Temple in Mission, and are bused to St. Louis. The Shriners pay for the cost of the braces, as well as for Sam's medical care. The Muscular Dystrophy Association also helps pay for Sam's health care.
Looking at the positive
Although Sam has been known to ask why he's not like his brother, who has no health problems, Sam is generally accepting of his condition. He has a sweet disposition and is a generous and loving child, his mother said. His teacher, Sara Saunders agreed, and noted that Sam frequently helps other students at school.
One of Sam's biggest disappointments has been that CMT limits the sports in which he can participate.
"It's heartbreaking," Deb Denholm said. "He can't play soccer now. He loved that when he started last year but his doctors said that was too much impact on his feet."
Football and basketball are out, too, she said.
"But he can play baseball, " she added. "That's one sport they will let him play."
Sam is likely to have a good time on television next week, as he did last year. His mother explained that he made a memorable performance last year when he and other children were asked to hold sticks with marshmallows on them and pretend they were cooking them over a campfire.
Even now, a sparkle comes to his eyes as Sam uses exaggerated gestures to show how he moved his marshmallow stick back and forth.
"I made the people laugh," he said.