Wildcats drop Chieftains to 0-3
Tonganoxie seemed ready to break the win column last Friday at De Soto. The Chieftains welcomed back senior Alicia Stauch, who was sidelined with a foot injury.
THS also played a tight game, down 15-12 after the first quarter and 25-19 at the half. De Soto, though, shot 52 percent, while THS was just under 35 percent.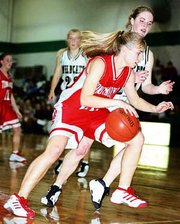 Tonganoxie stayed close in each quarter, but De Soto claimed the win and improved to 2-0.
The Chieftains went home with an 0-3 start.
"We're really struggling offensively," THS coach Leslie Foster said. "Mainly it's because we're not shooting the basketball. Defensively I thought we really played well together, but unfortunately, you have to score to win ball games."
Senior Keri Walker led the team with 10 points, but was just 2-for-11 from the field. She added six free throws. Seniors Aimee Eisman and Andrea Korb added six points each as THS also lost its third Kaw Valley League game.
De Soto was led by Allie Heinen. The sophomore led all players with 14 points.
Senior Tia Bernard, junior Julie Beck and sophomore Lisa Lambert also added eight points each.
Tonganoxie played KVL foe Lansing Tuesday and entertains nonconference opponent Bonner Springs on Friday.
Perry-Lecompton 47, Tonganoxie 41
Tonganoxie had its first first-quarter lead against the Kaws on Dec. 4 in Tonganoxie, but the Kaws answered and took a 26-23 halftime lead. Perry-Lecompton's lead reached 12 in the second half. Although Tonganoxie staged a comeback in the final minutes, the Chieftains fell 47-41.
Jennifer Reischman led Tonganoxie in scoring with 10, while Shannon Williams (14), Kristie Skelton (12) and Brandy Jones (11) scored for the Kaws in their first victory of the season.