The glow of Christmas lights outside the Aronhalt home greets motorists passing by on Kansas Highway 32.
But the outdoor display pales in comparison with the holiday decorations inside Ginger and Greg Aronhalt's two-story home at the northwest corner of K-32 and Leavenworth County Road 25.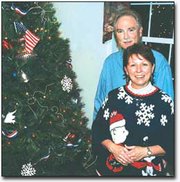 "Welcome to the land of Christmas cheer," Ginger Aronhalt said before leading visitors on a tour of their home, which features five decorated trees.
"This is her time of year," her husband said. "She loves it."
Ginger Aronhalt's enthusiasm for the holiday is apparent throughout their 4-year-old home.
In the kitchen is a tree with a patriotic theme, tastefully decorated with red and blue star ornaments, U.S. flags and red, white and blue ribbon.
"I'm really, really proud of this tree," the veterinary technician said.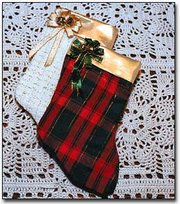 In the formal dining room, a tree decorated with gold and glass balls shines. A Santa tree stands watch in a niche in the upstairs hallway. It is decorated with an antique tree-topper that's been in Ginger Aronhalt's family for about 60 years.
"This is the only time it's seen the daylight," she said, explaining the ornament usually is carefully wrapped in tissue paper.
The couple, who are ardent Kansas basketball fans, also sport a Jayhawk tree in their bedroom wrapped with red, yellow and blue fabric ties.
The trees are just part of the Christmas picture.
Outside, twinkling on the lawn are an angel, a drummer boy, green tree with a red star, a reindeer pulling a sleigh and a snowman. Another snowman is projected on the upper wall of the home, and candy canes line the sidewalk.
Holiday candles burn throughout their home. Mulling spices perfume the kitchen. Mr. and Mrs. Claus rest in rocking chairs. Greenery is wrapped along the railing above their great room. They have dancing Santas, singing Santas and a one-man-band Santa.
"It's like the Home Depot Christmas section here," said Greg Aronhalt, a national sales director for a telecommunications manufacturer in Canada.
Ginger Aronhalt is eager to begin her holiday shopping for next year. She begins with the after-Christmas sales and usually completes her purchases in October. That way, she can enjoy the holidays and decorating.
"I've always truly loved Christmas," the De Soto High School graduate said. "It's always been a special holiday. I love giving."
This season, the couple have opened their home for five holiday parties. Although Greg Aronhalt didn't bring it out this year, he has a complete Santa suit that he sometimes dons for parties.
"Neighborhood kids would all come in and sit on my lap," he said.
All of the Aronhalts' trees are artificial, and because they take so long to put together at least two of them remain up, undecorated, between January and November. Fresh trees are too dangerous.
"I leave them up for such long periods of time, and I don't like the fire hazard," Ginger Aronhalt said.
And while both Ginger and Greg work on Christmas decorations each year, Greg is correct when he says it is Ginger's time of year. As she talks about Christmas and giving gifts, her eyes sparkle.
She truly loves the season.
Ginger Aronhalt plans to leave her decorations up well into January.
"I just think this is the time of year you should make last as long as possible," she said.