2001: a year of challenges
Editors' note: As we move toward a new year, Lisa Scheller, news editor at The Mirror, took this opportunity to look back at the past year.
January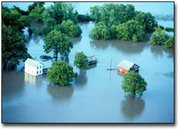 In 2000, the city of Tonganoxie issued 99 building permits for new housing, outpacing these other cities in the county: Leavenworth, 60, Lansing, 54, and Basehor 24. In rural areas of the county, 192 residential building permits were issued.
The Tonganoxie High School Marching Chieftains returned from a successful performance at the Cotton Bowl in Dallas. The 93 band members who marched during near-blizzard conditions received an honorable mention. In indoor competitions, the jazz band took third place and concert band received an honorable mention.
John Shoemaker was feeling improved following his surgery for the removal of a grapefruit-sized benign tumor on his pancreas.
Right Choice Pharmacy, a company to provide mail-order pharmaceuticals, announced plans to construct a 10,000-square-foot building in Tonganoxie's Urban Hess Business Center.
Construction was under way on an addition to Mutual Savings Association's Tonganoxie branch.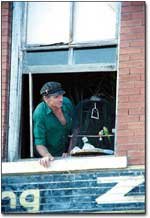 Leavenworth County Sheriff's officers and Kansas Bureau of Investigation agents discovered a methamphetamine lab in two rooms of Sunset Motel that were rented by a Tonganoxie couple who lived there with their 9-year-old son.
Air-quality concerns prompted the Tonganoxie school district to begin removing carpeting in several classrooms at Tonganoxie Elementary School.
Tongan-oxie High School debaters became the first school in Kansas to bring home first-place trophies in both two-speaker debate and four-speaker debate. Marissa Stephenson and Luke Manson won in two-speaker debate, and in the four-speaker competition, Amelia Earhart, Andrew Becker, Kyle Rodell and Darren Welch won. Paul Reetz and Megan Needham served as alternates.
The Leavenworth County Annex, located in Tonganoxie, was set up to renew drivers' licenses.
The Tonganoxie Chieftains took third place at the 42nd annual Invitational Basketball Tournament. First and second place respectively went to Eudora and Oskaloosa teams.
The Delaware Tribe of Indians, based in Bartlesville, Okla., was considering Leavenworth County as a possible site for the location of a casino. Part of the Delaware's tribal home in the early- to mid-1800s was in Leavenworth County. The city of Tonganoxie was named after one of the early Delawares to settle in this area.
First State Bank and Trust of Tonganoxie was constructing a 3,400-square-foot branch bank at Sixth and Monterey in Lawrence.
February
Volunteers worked together to rebuild Tonganoxie's Assembly of God church. The church was destroyed during the May 11, 2000, tornado.
"Tonganoxie Phil," otherwise known as Dr. Philip Stevens, predicted six more weeks of winter when KBEQ radio asked his opinion on Groundhog's Day.
A tourism area which would include Cabela's, Nebraska Furniture Mart, a multi-theater complex, Applebee's restaurant and an outdoor mall would be constructed east of Kansas Speedway.
At Tonganoxie Elementary School, 116 students graduated from the DARE program, which is instructed each year by Leavenworth County Sheriff's deputy Connie Anderson.
Duke Energy confirmed Leavenworth County was in the running as a possible site for a $200 million gas-powered electrical generation plant.
March
The body of Jarbalo resident John Brezgiel, and his car, were discovered in a creek near Jarbalo Road. Brezgiel, 74, had been missing since Sept. 20, 2000.
Winter snows had kept Tonganoxie school children home from school for 6.75 days, according to school officials.
Jack Cronemeyer announced plans to open Badd Jack's Southwest Restaurant at 416 East Fourth St.
The Tonganoxie City Tree Board started a tree replacement project northeast of the Leavenworth County Fairgrounds. The project would replace trees damaged by the May 11, 2000, tornado.
Members of the Leavenworth County Water Rescue and Technical Services Team waded through high water to rescue Larry and Kathy Duarte from their water-surrounded home north of Jarbalo.
According to the U.S. Census Bureau, Tonganoxie's population grew 16 percent, from 2,347 in 1990 to 2,728 in 2000.
A petition carried by several Tonganoxie citizens protested a charter ordinance that the Tonganoxie City Council approved in January, which would have allowed the city clerk to live in Leavenworth County, or in an adjoining county.
Whispers Cabaret, owned by former county commissioner Wayne Eldridge and his wife, Vicki, was under investigation regarding a possible violation of the county's resolution against topless dancing.
A petition with signatures of about 500 area residents asked Kansas Gov. Bill Graves to deny the location of a casino in the county.
April
State officials ordered a ban on new admissions at the county's infirmary in Leavenworth, citing problems at the infirmary, as well as with the infirmary's administration and the county commission.
McLouth parents raised $20,000 to start up a high school baseball and softball program. Former Kansas City Royals pitcher Dennis Leonard signed baseballs at the season's grand opening.
Tonganoxie Junior High students rehearsed for the school's April production of Annie.
New tennis courts were added to the recreational selections at Chieftain Park.
Steve Gumm, Emmett Wetta and incumbent Kathy Graveman were sworn in as council members at the April 9 city council meeting.
Construction continued at B&J Apple Mart, which would be doubled in size.
Denise LaRosh's ninth-grade English students were busy publishing magazines for their class project.
The girls and boys Tonganoxie track teams both took first place at the Basehor-Linwood Invitational.
Dan Petersen, a 33-year-old Lawrence man and a former volunteer youth leader at the Tonganoxie United Methodist Church, could serve up to 91 months in prison. Peterson pled guilty to one count of criminal sodomy, two counts of attempted indecent liberties with a child and one count of attempted aggravated indecent liberties with a child.
Wet winter weather stalled construction of Steve Sturgeon's new 91-lot mobile home park, located west of the intersection of U.S. Highway 24-40 and Smiley Road.
Lorena Seymour, 65, retired after working in the Kansas City, Kan., railroad yards for 50 years.
A house fire at 22352 211st St., resulted in the death of Roxana Smith, 89.
May
Sixth-grade student Rachel Bogard learned that a book she wrote at school would be sent to a national competition. Because of this, Bogard qualified for a $250 college scholarship.
Tonganoxie youths, led by Luke Stevens and Kyle Wedd, have been leading a campaign to get a skate park established in Tonganoxie.
Kathy Pine stepped down from her job with the Tonganoxie school district where she had worked as secretary for 28 years.
The city of Tonganoxie installed a slippery slide at the city pool. City workers also moved dirt and built a retaining wall near the south edge of the pool to facilitate parking.
Residents remembered the May 11, 2000, tornado in a special section of The Mirror.
A Leavenworth County District Court judge denied a request for a new trial for John Pfannenstiel, former Basehor mayor convicted on three counts of having illegal sex with inmates at Lansing Correctional Facility where he worked as a guard.
John Bonee began construction of a 35-unit adult-living community in Basehor near city hall.
The state lifted the ban on admissions at the county's infirmary in Leavenworth.
Wayne and Kathleen Gillett, McLouth, donated a coral reef aquarium to the University of Kansas.
Graduates celebrated after 106 Tonganoxie High School seniors had received their diplomas.
Master Gardeners worked to landscape Magatech Park, located east of First and Main streets.
Rex Hutton and his wife, Rita, planned to reopen their Tonganoxie Tai Kwon Do studio.
Mike Webb, Tonganoxie High School basketball coach and counselor, resigned.
Ten Chieftains qualified for the state track tournament in Wichita.
June
Lawrence Memorial Hospital announced plans to open a medical office in Tonganoxie within a year.
Orley "Chip" Taylor showed children how to take care of a beehive. Taylor spoke at the Northeast Kansas Beekeepers meeting at the Leavenworth County Fairgrounds.
The Kansas Speedway held its inaugural races weekend at the new track 16 miles east of Tonganoxie. An estimated 45,000 people attended the races.
The 10th annual McLouth BBQ Blowout was another success, but participants had to brave a car-denting hailstorm the night before when a spring storm roared through the area.
Tonganoxie High School debaters returned from national competition in New York City where two students, Luke Manson and Marissa Stephenson, earned a fourth-place trophy.
A Linwood man, Charles Leach, was held in Leavenworth County Jail on a charge of shooting his 38-year-old son-in-law, Michael Roach. No charges were filed in the death, which occurred on Leach's property along Leavenworth County Road 1, about a mile south of Kansas Highway 32.
Mayor John Franiuk, with unanimous approval by the city council members, appointed Karen Daniels as city clerk, replacing Kathy Bard, who lives in De Soto. Bard was named assistant to the city manager.
A weekend of Tonganoxie Days activities made Tonganoxie a busy place to be. This was the city's 16th annual Tonganoxie Days celebration and included arts, crafts and food booths downtown, as well as an antique car show and a demolition derby.
The school board hired David Walker, an assistant high school basketball coach since 1999, to fill the position vacated by Mike Webb.
Albert Gibson, McLouth, was released from the hospital after he was burned when his house was destroyed by fire. A fund-raiser was planned for Gibson.
Neil Bitler was preparing to open a new restaurant, The Santa Fe Depot Diner, in the former depot in Leavenworth.
Stranger Creek roared through Leavenworth County, flooding the Easton Grade School and other homes and businesses in Easton, and permanently damaging the footings of the Linwood bridge which would later be removed. Traffic on Interstate 70 was temporarily halted when Stranger Creek spilled onto the roadway.
July
About 15,000 acres of cropland were damaged during the recent flooding of Stranger Creek. In Easton, residents set wet belongings outside in the sunshine to dry. Easton's school board decided not to use the grade school again. The building had been flooded with at least 2.5 feet of muddy water.
Dentist Grant Ritchey began fund-raising activities for Operation Smile, which would provide dental care to needy people. Ritchey planned to climb Mount Adams, a 12,276-foot-tall peak in Washington, to raise funds.
Kelly Vogel purchased the west half of the Holst Pharmacy building and planned to open a full-line bakery there in the future.
The Tonganoxie City Council voted to require all businesses in Tonganoxie to obtain a business license, beginning in 2002. City Administrator Chris Clark said this would be an effective way of tracking sales tax collections. Sales taxes account for about 30 percent of revenue for the city. No fee will be charged for obtaining a business license.
Summer's heat sent residents to the city swimming pool. From July 3-8, 940 people checked into the pool.
Mark and Jennifer Pine, part of the Pine family which for 54 years has sold fireworks in Douglas County, celebrated the July 4 birth of their son Brett Andrew Pine.
The Kansas Speedway succeeded at its first big race weekend with an estimated 100,000 people braving sizzling summer heat to get a look at their favorite racecar drivers.
The county commissioners decided to seek outside management for the county's infirmary.
Ronald Decker, 52, rural McLouth, was charged in connection with the death of Lloyd Green, McLouth. Law enforcement officers discovered what they believed to be Green's body buried on Decker's property.
Garrett Daily, born May 9, has been diagnosed with leukemia. Garrett is the son of Brian and Megan Daily, Tonganoxie. Brian Daily is a Tonganoxie police officer.
Lenny Lawson, 58, Tonganoxie, and Richard Inlow, 59, Bonner Springs, died July 22 in a helicopter crash near Creighton, Mo.
The Linwood bridge, damaged by the June flooding of Stranger Creek, is slated for demolition.
Construction is expected to soon start on the VFW Post. No. 9271 post home in Tonganoxie at VFW Park.
August
June floodwaters uncovered remains of a prehistoric Indian home in Leavenworth County. Brad Logan, an anthropologist at the University of Kansas, and other volunteers, investigated the site, finding numerous artifacts.
Mike Covey, 24, Basehor, and his family were coping with the effects of his bout with testicular cancer. He was undergoing chemotherapy and it was anticipated that more surgery would be needed in September. A fund was set up to help the family with finances during his illness.
Bill Theno narrowly escaped injury when he jumped off a tractor and mower that overturned while he was mowing.
The Leavenworth County Fair experienced a huge attendance. The newly rebuilt fairgrounds, damaged by the May 11, 2000, tornado, were in fine shape to accommodate the crowd.
Jody and Jeff Hupe announced plans to open a day care center and preschool where Bitler's BBQ restaurant was formerly located.
Paul and Linda Mayse sold their Mr. Goodcents restaurant to Mark Matheson, Olathe.
Gasoline prices soared, reading $1.76 by the end of August.
The county sought guidance on how to set up an ordinance governing the possession and care of exotic animals. This occurred after several incidents in which people were injured by exotic pets.
The 165-acre state fishing lake, located about seven miles northwest of Tonganoxie, was refreshed with a supply of 24,000 young channel cats.
Two Basehor women, Mary Leonard and Tammy Potts, were recognized for their work in starting and running the YouthFriends program at the Basehor-Linwood schools.
Bob Hill opened Burning Tree Golf Course near De Soto.
Sam Denholm, who suffers from a condition known as Charcot Marie Tooth, appeared on the Labor Day weekend Jerry Lewis Muscular Dystrophy Association Telethon. Sam, 8, is a student at Tonganoxie Elementary School.
September
Tonganoxie City Administrator Chris Clark announced plans to resign. Clark said he would be returning to his home state of Massachusetts in November.
Three area women opened the Children's Depot, which offers used clothing and toys for sale, in the former Tonganoxie depot.
Work on Steve Sturgeon's mobile home park was nearing completion.
Beth Smith, Leavenworth, sister of The Mirror columnist Thamar Barnett, completed a quilt, which would be raffled in memory of John Brezgiel, who died in a September 2000 car accident.
A stunned nation watched in the aftermath of the Sept. 11 terrorist attacks on New York City and Washington, D.C. At Fort Leavenworth, increased security measures limited entrance to the fort.
Tonganoxie High School students experienced a drop in the average ACT test scores, settling at 19.8, compared to last year's average of 21.6 which matched the state average.
Members of the Tonganoxie Christian Church celebrated at a dedication ceremony to open the church's new Family Life Center.
A Bonner Springs man, Donny Gene Graham, 37, died when checking a 1,000-gallon oil tank about five miles north of Tonganoxie. Sheriff's officers reported that the tank exploded when Graham, who was on top of the tank, lit a match so that he could see how much oil was inside.
A poem by Asa Kesinger was published in The Mirror. The poem recognized longtime Tonganoxie businessman John Lenahan and his family.
Mike and Gail Drake began marketing their new word association game, "Locution," in Tonganoxie and the surrounding area.
A firefighter fund-raiser at highway locations netted the donation of more than $16,000 for the families of emergency workers who died in the Sept. 11 World Trade Center tragedy.
Luke Manson, a 2001 graduate of Tonganoxie High School attending school in New York City, was doing volunteer work in NYC.
Security was tightened for the NASCAR Winston Cup Series races at the Kansas Speedway, which drew more than 120,000 fans and workers.
October
Rumors that the Oz Entertainment Company was looking at locations in southern Leavenworth County for the development of a theme park turned out to be unfounded.
Because of the threat of biological warfare and after several confirmed cases of anthrax by postal workers in other states, Tonganoxie post office workers began wearing gloves when sorting the mail.
Leavenworth County Commissioners looked at ways to ameliorate the county's revenue shortfall.
Home Depot decided to establish a store south of Kmart in Leavenworth. The company also had looked at a potential site in Lansing.
The Leavenworth County Planning Commission voted against recommending the renewal of a special-use permit for the Gaea Retreat Center, a camp 10 miles north of Tonganoxie known for nudism and pagan activities. The commission vote was 5-2.
County commissioners approved a law regulating the keeping of exotic pets in the county.
County officials were progressing with plans on how to renovate the courthouse.
The Tonganoxie boys track team took its sixth consecutive title at the Kaw Valley League meet in Leavenworth.
Owners of three downtown businesses filed a $450,000 claim against the city of Tonganoxie, saying their reputations and businesses had been harmed.
The newly rebuilt Assembly of God church, destroyed by the May 11, 2000, tornado, was officially reopened at a dedication ceremony.
Motorists were warned to watch for deer on roads. In 2000, there were 9,537 vehicle-deer collisions in Kansas.
The city had received 80 applications for the position of city administrator.
Leavenworth County commissioners denied the request for a special-use permit for Camp Gaea. The camp's owners said they planned to fight the decision in court.
Jeffrey Phillips entered into an agreement with the county for his company, Citadel Holdings to take over the operation of the county infirmary. Phillips plans to construct a new nursing facility at the property.
A drop in interest rates brought homeowners to their bankers for refinancing their loans.
November
Paul McKie, a long-time southern Leavenworth County rancher, served the first of his planned two years as president of the American Royal.
Despite spring flooding, fall crops in Leavenworth County had good yields.
Josh Ferris and other Boy Scouts repainted the army tank at VFW Memorial Park. The work was the final project for Ferris to complete his requirements to become an Eagle Scout.
Tonganoxie High School students enthralled audiences with their performance of "The Sound of Music."
Sculptor Jim Brothers, whose foundry is located in southern Leavenworth County, continues his work on sculptures that honor veterans. The sculptures have been erected throughout the United States.
The nation's recession, and the events of Sept. 11, have taken a bite out of the sales of some area businesses.
The Good Shepherd Thrift Shop and Food Pantry was in dire need of food donations in order to help families during the Thanksgiving and Christmas holiday seasons. Directors said the recession, as well as job layoffs, had increased the demand for assistance.
The city of Tonganoxie approved higher 2002 monthly rates for water, sewer and sanitation services.
Earth Rising Inc., the owners of Camp Gaea, appealed the county commission's decision to deny a special-use permit for Camp Gaea.
It was determined that the city of Tonganoxie had incorrectly annexed land earlier this year, and that at least two of the city's signs welcoming motorists would have to be relocated.
A blood drive headed by Tonganoxie High School FCLA members surpassed its goal.
Gail Innis opened her "All About Dreams" gymnastics studio near Basehor.
Kansas University anthropologist Brad Logan wrapped up his investigation at the site of a prehistoric Leavenworth County Indian dwelling.
Chuck Robinson, Overland Park, planned to take "Americow's Heroes," a cow from the 2001 Kansas City "Cows on Parade" project to New York City. Robinson would present the cow, along with $57,000 donated by Kansas Citians, to Mayor Rudy Guiliani.
December
Sunflower Broadband, formerly Sunflower Cablevision, was ready to provide 27 more channels to Tonganoxie customers.
Tonganoxie school board members terminated the 1-year-old "C-teams" established at the high school.
The city of Tonganoxie paid five property owners $39,500 for land needed to improve the intersection of U.S. Highway 24-40 and Kansas Highway 16. Work is expected to begin by June 2002.
Kansas Gov. Bill Graves attended a ground-breaking ceremony for Nebraska Furniture Mart. The new store will be just east of Kansas Speedway, about 16 miles from Tonganoxie.
Gail Kiefer, Tonganoxie second-grade teacher, received her National Board Certification.
Mayor John Franiuk hired Shane Krull, 36, Lawrence, as Tonganoxie's new city administrator. Krull will start his new job on Jan. 7.
A fire designated by investigators as arson caused more than $1 million damage to Basehor's shopping mall.
The Chamber of Commerce decided to move the 2002 Tonganoxie Days festivities from Fourth Street to the Leavenworth County Fairgrounds.
The 3-year-old Basehor-Linwood Virtual Charter School, an Internet-based curriculum for home-schooled students, received state accreditation.
Garrett Daily, the 7-month-old son of Brian and Megan Daily, experienced a setback with leukemia and returned to the hospital. He was expected to be able to spend Christmas at home with his family.