Church raising
Volunteers help at tornado-damaged church
The sweet sound of volunteers' hammers rang out for three days last week at Tonganoxie's Assembly of God Church.
Volunteers came from throughout the community and northeast Kansas to provide about 400 hours of time, in a flurry of activity to help the church rebuild. Much of the church building, at Sixth and Church streets, was destroyed in a tornado that hit Tonganoxie on May 11.
Last week, volunteers focused on framing the church and setting the roof trusses.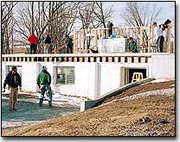 "Now, people will probably come and go, doing the Sheetrock and finishing the inside," said Waneta Karriker, whose husband, Herman, is pastor at the church.
"People won't be seeing too much of a change outside until spring. Eventually, we'll get our windows. A lot of the work from now on, once the roofing is on, will be pretty much inside."
After the three-day volunteer effort, parishioners gathered as usual for Sunday services in space at Tonganoxie Christian Church. They gave thanks.
"We're just really, really thankful," Karriker said. "We were a little hard to contain at church on Sunday. We were all just beaming."
During the work days, contractors, retirees, and even Tonganoxie's mayor and city planner, worked side-by-side.
"I doubt that religion was even talked," Karriker said. "That wasn't the main focus. There were people from all walks of life and all denominations."
Last Thursday, 22 volunteers worked. On Friday, that number increased to 28, and on Saturday between 18 and 20 people helped out.
"It was really out of this world," Karriker said. "We were stretched to be able to comprehend the whole thing. We never saw anything like that before. It was just beautiful how it all worked out."
When the May 11 storm hit Tonganoxie, the church's roof and main floor were destroyed. The walls tumbled down and the roof landed on top of them.
However, the lower level of the church the site of Sunday school classrooms essentially was untouched. So that area has been used as the base for the new church building.
Last week's volunteer effort transformed the church back to a two-level structure.
Plans call for a building that will be about 25 feet longer than the previous church. The building will front Sixth Street. Parking will be available west of the church, and a few spaces will be included off Church Street.
The 3,400-square-foot main level will include a vestibule, a nursery, an office and the sanctuary. A four-foot steeple will rise above the church. The 2,400-square-foot lower level will feature fellowship area and classrooms.
Don Wood, an Assembly of Good construction missionary for Kansas, is overseeing the project, which will cost an estimated $350,000 for materials and professional fees, such as for architectural drawings and engineering plans. The church's membership tops out at 30 or 40, Karriker said. So without volunteer labor, the church could not be rebuilt. It's anticipated that more help will come from volunteers who are members of the Assembly of God's Recreational Vehicle Missions America Placement Service.
"And you never know when teams will come from area churches, from Kansas City, Lawrence, Ottawa," Karriker said. "We just take them when they come."
The outpouring of support for the church project has been overwhelming.
On Monday, a retired contractor stopped by, offering his services. Last week, a woman called, offering to donate an organ. The church already has one. The woman also has pulpit chairs.
"It's just one thing right after another, people who offer to do things, people we haven't even heard of," Karriker said.
Immediately after the tornado, parishioners and volunteers cleaned up and secured the church building.
"Things just kind of died down after awhile," Karriker said. "But we were trying to get through all the rules and regulations with the city, and that was the main thing we were dealing with for awhile. All of a sudden, things have just picked up again, once we started working out there with the concrete. And we expect it to keep happening. It just blows your mind when you stop and think about it. It just shows how good God is. He knows what we need and when we need it. That's when people come in."