Down a ways from the curving driveway off Hatchell Road, woodsmoke curls from a stone chimney, a cardinal sings from the shelter of a cedar tree and a yellow cat curled on a bed of dry leaves dozes in sunshine.
Nearby, the ice-coated pond reflects brightness of a winter's day. And, inside a house surrounded by trees at the end of a gravel lane, Cheryl Hanback clicks through her morning e-mail.
Her days usually start like this, she says, taking a sip of coffee as she scrolls through an e-mail sent by her 87-year-old father who lives in Illinois.
As the web of the Internet wraps its way throughout society and turns technology into an integral part of day-to-day lives, one person's use of the Internet may seem inconsequential.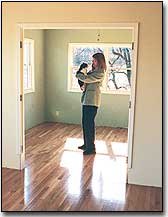 But, in looking at the ways the Internet has embraced Cheryl Hanback's life, one might surmise that her situation is a harbinger of things to come.
In the last year, it was through the Internet that Hanback's first-born son, the one she gave up for adoption 30 years ago, first contacted her.
When doctors diagnosed her mother as terminally ill, her father didn't pick up the phone and call his children. Instead, he told them by e-mail.
When Hanback, who was divorced, two years ago wanted to meet someone to date, she didn't go to a singles dance and she didn't try the nightclub scene. Instead, she logged onto an Internet matchmaker service.
Drying the tears
Tears come to Hanback's eyes and her voice cracks when she talks about the birth of her first son.
"I held him one time," she said.
She knew he had been adopted, nothing more.
In recent years, she had thought about trying to locate him.
"But I had no idea how to do it," Hanback said. "I thought I would have to go on Oprah or pay somebody to research it. I didn't even know there was an agency I could go through."
And then, in May 2000, she received an e-mail from a social worker at an adoption agency in Illinois.
"I knew what it was," Hanback said.
Later that day when she was at her office, an e-mail arrived from her newfound son, Andrew, telling her a few details about his life.
"He said, 'I couldn't wait to say hi, 30 years, two months and 18 days later,'" Hanback said. "He signed it 'Thanks.'"
Her excitement was overwhelming.
"I started screaming," Hanback said. "I had hoped it would happen over time, and there it was."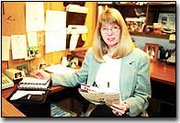 She replied to his e-mail and later that day received a three- page e-mail from Andrew, telling her about his life.
"He started it out by saying, 'A lot's happened since we last met,'" Hanback said.
Despite the bittersweet feelings about the years they'd missed, his letter made her laugh.
A week later, they met in person.
The irony
The biggest surprise, Hanback said, was his height.
"He's six-foot, six-inches tall," she said.
What's more, she said, Andrew looks nearly identical to his biological cousin, a son of Hanback's brother.
Coincidences abounded.
Both Andrew and his mother play the violin and both are computer consultants.
Andrew lives in Bloomington, Ill., where Hanback had grown up and where her father still lives.
And, on the day Andrew and Hanback were "reunited" via the Internet, Andrew told her that his wife, Iris, worked for State Farm Insurance, and he said he hoped to get a job at State Farm, too.
At that time, Andrew had no way of knowing that his biological grandfather, Hanback's father, Read Hanback, had worked at that same State Farm home office for 41 years.
Further, Andrew had graduated from Illinois State University where Hanback, her father and her brother, Chip Hanback, had also graduated. This was in the city of Normal, a twin city of Bloomington. Andrew lived in Normal for 10 years. Ironically, his residence was a half-block away from the home where his biological father had lived, and across the street from the carwash where his father had worked.
Hanback said she did not know what had become of the biological father, whom she did not marry, and said Andrew has expressed an interest in meeting him.
Hanback later married and gave birth to another son, Jonathan, who is now in his mid-20s and lives in a house he is building in an Arkansas forest. He lives simply, by choice, without running water or electricity.
Jonathan had known of Andrew's existence since his mother told him when he was 18, the age she had been when Andrew was born. Since then, he had wanted to meet his brother.
It was Jonathan whom Hanback called immediately after Andrew contacted her.
He came to visit her that weekend.
"It was great just to talk it all through with him," Hanback said. "He's my best friend."
Even through the happiness, Hanback felt anxious about meeting Andrew.
"I was so depressed," she said. "I couldn't even get out of my pajamas for three days."
Her concern was that she felt disloyal to Jonathan in wanting to meet and establish a relationship with the son she had given up for adoption.
Jonathan was her "one and only," she said, explaining they had always been close.
"I felt like I was taking something away if I met Andrew. I had to process that."
Also, she said, she was struck once again with the sense of loss she had felt when giving up Andrew.
"All the negativity from the past was coming to the surface," she said.
She recalled that in 1970, when Andrew was born, society frowned moreso than today on unwed mothers keeping their babies. During her pregnancy she had been sent to stay with her grandparents in a nearby town and she had not been allowed to return home until after the baby was born.
Hanbeck said that last summer her father and Andrew met. Her father, she said, frequently takes Andrew to the local country club for dinner. She said she finds that ironic.
"Society was the main reason for hiding him when he was born," she said. "Now we take him to the country club and introduce him it's not a bad thing it's a cool thing."
Getting to know you
Hanback said she wasn't looking for the love of her life when she logged onto an Internet matchmaker service.
"I was just going to look," she said.
Her first read of the entries was anything but promising.
"It was like looking through a bucket of coal," she said.
"And then I got down to Richard's, and he just sounded like a real person with no pretenses."
And so she took the plunge, paid a $25 fee the Web site charges to allow a person to send an e-mail to someone listed, and she sent an e-mail.
Richard Brown, who teaches fourth grade in Lecompton, sent one back.
"We talked for a month on e-mail," Hanback said. "It grew real slowly and I began to realize that I really liked this person."
Through e-mail, people can get to know one another on a different level, she said.
"I think it's more personal because we talked about things there, things that I wouldn't have said if we had met in person," Hanback said. "It would have been more superficial if we'd met for a cup of coffee."
Besides that, she said, Brown is a quiet person. She ponders what might have happened had they first met in person.
"I would have seen his introvertedness," she said. "I wouldn't have seen all the wealth that's inside of him and all the beauty that's in there that he has to give."
Brown agreed that, from the start, this changed the tenor of their relationship.
"By the time we met, I felt like I knew her fairly well," he said.
Because of the Internet correspondence, the couple was able to bypass the first-meeting jitters, he said.
"It can kind of make a person anxious to have a blind date," Brown said. "But we really skipped over that phase because we got to know each other real well over the Internet. We probably talked about things on a deeper level than if we'd first met."
Their first meeting was a month later. On Sept. 20, 1999, they said hello face to face and visited the Vietnam Veterans Memorial Moving Wall in Tonganoxie and then went to a nearby restaurant for pizza.
They've been together since.
Easier to write
Hanback recalls receiving her father's e-mail telling her of her mother's poor health.
The convenience of e-mail enabled her father convey the situation less painfully, she said.
"When Mom was dying, Dad e-mailed and told us," Hanback said. "He couldn't say it out loud."
As a family, all are adept at using e-mail, she said.
"We've all dealt with grief and everything else online together. It was really like a support group for him and for all of us," she said.
Transition
Hanback says the discovery of her birth son in a roundabout way, was an impetus for her to make changes in her life.
She quit the job she'd had for 10 years and started what she terms a "virtual organization," Cheryl Hanback Consulting.
This is a two-armed business that operates without an office and with a Web page at: cherylh.com. The enterprise links Hanback and two partners who work together to create Web sites for non-profit organizations and charge according to a sliding scale, based on the organizations' income.
On her own, Hanback provides the same service for for-profit businesses. She also develops databases and provides computer hardware and software.
She believes in taking advantage of computers.
"I once quit a job because the company wouldn't buy a computer for me to use," she said.
Besides that, Hanbeck says she's an efficiency expert.
"I can come in and tell you where you can use technology creatively to save yourself time and money."
Food for thought
As a member of the Tonganoxie Country Co-op, a group of 11 families who get together to order food in bulk, much of it health food, Hanback sends by e-mail the group's orders to an Iowa warehouse.
"We communicate with each other through FAX, e-mail, in person and in the mail about what we want to order," she said. "I get the price list and send the order by e-mail and they e-mail a confirmation and the invoice for the final order."
Detractors of the Internet say there are dangers in using it, in connecting with strangers and in doing business over the Internet.
But Hanback says it's like anything else, and can be good or bad, depending on who's using it and for what purposes.
For research, it's a great tool, she says.
She uses Internet searches to find quotes to write on the inside of homemade greeting cards, to look up cures for insomnia and other ailments, to find recipes, for maps to destinations, and more.
"There are unlimited opportunities on the Web to create whatever you want," Hanback said. "Whatever vision you have for something, you can make it happen out there. You can make money, sell things and let people know about yourself."
As she stands in a bright patch of light in her living room where a newly installed hardwood floor reflects the glow of winter's day, she says that with her life, family and career, all which happen to be woven together by the web of the Internet, she's doing what she wants to do.
"I've kind of created my life around me. The year 2000 was a miraculous year for me," Hanback said. "I believe that you can create your own life."