Girls break free of slump
Tonganoxie's girls basketball team broke out of its recent slump last week, beating Lansing, 34-21, in a Feb. 7 road game.
The win lifted the Chieftains' record to 6-9.
Tonganoxie came out fairly strong to open the game, outscoring Lansing 9-5 in the first quarter. Lansing closed the gap by a point in the second, and the Chieftains were up 15-12 at the break.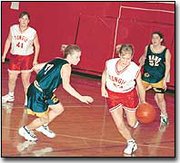 As they had in the second, the Chieftains scored six points in the third quarter. They led 21-16 after three.
And that's when the team kicked it up a notch.
In the fourth, behind six points from senior Kristen Korb, the Chieftains more than doubled their third-quarter output, scoring 13 points to run away with the game.
Coach Leslie Foster said her team played better defensively than it had in awhile.
The team has stopped playing man-to-man and switched to a full-time zone. Foster said the move made a difference.
"It (man-to-man) just wasn't working," she said. "The 1-3-1 works better for us."
Junior Andrea Korb, who led the team in scoring with 13, said the another factor in the victory was the team's unselfish play.
"We just went out there and played team ball," she said. "We passed the ball around to everybody, and we all did what we needed to do."
Several Chieftains have been doing what they have needed to do this season.
Junior Erin Seymour is the team's leading free-throw shooter at 60 percent, and is averaging 3.4 points, 2.3 rebounds and 1.2 steals per game.
Junior Jasmine McCaffrey is shooting 50 percent from the line, and is averaging 1.9 points and 2.1 rebounds a game.
Junior Alicia Stauch is averaging 4.4 points, 3.6 rebounds, 1.9 assists and a team-leading two assists per game.
Senior Kristen Korb is the team's leading rebounder and offensive rebounder with 78 total and 33 offensive. She averages 4.1 points and 5.6 points a game.
Juniors Andrea Korb, Keri Walker and Aimee Eisman are the team's main scorers, accounting for 24 of the Chieftains' 39 points per game.
Several other girls have also made valuable contributions to the team by stepping up to fill in when other players were out of the line-up.
The team's next game is a Senior Night game Friday vs. Immaculata.
In the Tonganoxie Freshman Basketball tournament, Tonganoxie won its first-round game against Pleasant Valley, 31-19 on Wednesday behind steady, tough defense and eruptive offense.
The Chieftains opened the game hot to go up 11-4 after one, but thought Tonganoxie's defense held Pleasant Valley to only four points in the second, the team only scored three points itself.
The Chieftains only scored three points in the final period, but it was enough to give them the 12-point win.
Second-round games will be played today a Tonganoxie Junior high School.
Tonganoxie 34, Lansing 21
Lansing 5 7 4 5 21
Tonganoxie 9 6 6 13 34
Tonganoxie Erin Seymour 2, Aimee Eisman 3, Jasmine McCaffrey 2, Alicia Stauch 4, Keri Walker 4, Andrea Korb 13, Kristen Korb 6.