Large retailers anchoring tourism area near Kansas Speedway
Wyandotte County, in recent years overlooked by new retailers, finally has landed in the spotlight.
Carol Marinovich, mayor and chief executive of the Unified Government of Wyandotte County/Kansas City, Kan., last Thursday announced five major businesses that will anchor the tourism area adjacent to the Kansas Speedway.
The companies include Cabela's, Nebraska Furniture Mart, Warren Theatre, RED Development, Applebee's Neighborhood Grill and Bar, and an outdoor mall of specialty shops.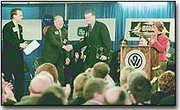 "Wyandotte County is poised to have a prosperous future and capitalize on this great opportunity," said Hugh Zimmer, chairman and CEO of Kansas City's Zimmer Management Company, the master developer for the 400-acre tourism district.
Zimmer praised the Unified Government "for aggressiveness and foresight to result in a major entertainment district that will serve as a catalyst for future expansion in all areas of Wyandotte County."
Kevin Rose, representing Cabela's outfitters, Sidney, Neb., announced the coming of a 150,000-square-foot Cabela's store that he said would be a destination for tourists.
Rose said the Wyandotte County store will house a 45-foot mountain, 500 museum-quality taxidermy animals, and a walk-through aquarium.
"We're extremely excited about the potential and opportunity," Rose said. "We believe this will be an exciting shopping experience for the entire family."
Cabela's has seven other retail stores, two in Nebraska, two in Minnesota, and one each in South Dakota, Michigan and Wisconsin.
Bob Batt, executive vice president of Nebraska Furniture Mart, Omaha, said the new 580,000-square-foot furniture store will cater to the business' many customers who already reside in the area.
"Why did we choose Kansas City?" Batt said. "We chose Kansas City because 60,0000 customers we have right now told us to, they've have been telling us that for years."
Also, he said the store will draw others in.
"We project that people will come from 250 miles to shop with us," Batt said. "This is not going to be your average everyday furniture store. It's going to be an entertainment experience, complete with furniture, floor coverings, appliances and electronics, as well as value, quality, selection and best prices."
Bill Warren, who owns Warren Theaters, Wichita, said he wants the new 12-theater complex to be the best.
"We plan to surpass Glenwood and we plan to surpass Midland," Warren said. "This will be the place to go and see movies."
Lloyd Hill, chairman and CEO of Applebee's, said the Kansas City-based restaurant would build a 5,000-square-foot, 200-seat restaurant. Applebee's, which first opened in the Kansas City area 15 years ago, now has 1,300 restaurants in 14 states and eight countries.
Dan Lowe, a partner of RED Development, Kansas City, Mo., said the tourism district also would include a 600,000-square-foot retail mall with specialty stores.
"Our goal is to bring retailers to the project that are destination in use, not necessarily to serve the local economy, but to draw from the entire region," Lowe said.
All of the speakers praised Marinovich and commissioners of the Unified Government for their tenacity.
For instance, Hill of Applebee's, said, it had taken vision, leadership "and sometimes force of will" to bring the project to life.
"This culminates the session with Mayor Marinovich and the Unified Government team that began two years ago," Hill said. "And those of you who know Marinovich know that there's no part of the word 'no' that she understands."