The Kaw Valley Community Chorus is a group of people who love to sing.
Even Gary Weidenaar, who is paid for directing the chorus, says he wouldn't be there if it weren't for the fact that the group's members love to sing.
Ask almost any member of the Kaw Valley Community Chorus, a 12-year-old group of residents from the Tonganoxie, Basehor, Linwood, Bonner Springs, Lawrence and Johnson County area, why they're there and chances are the answer will be short.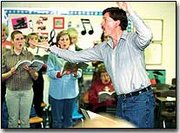 "I love to sing," said Jack Wilson, Tonganoxie. A first-year member of the chorus, Wilson, who has participated in the Kansas City Kansas Community College's performance of Handel's Messiah, said a friend invited him to participate in the KVCC.
Lillian Purdue, Bonner Springs, termed herself the oldest member in the choir and said she's loved music all her life.
"Music is a part of my life," Purdue said.
A six-year member of the chorus, Purdue said she's also sung with church and school groups.
Shirlene Pouppit, Basehor, has participated in the choir for 10 years. Like the others, her explanation is short.
"I love music," Pouppit said.
Nola Cooper, Basehor, agreed.
"It's the love of music, and the fellowship," Cooper said.
Currently, three dozen members sing in the chorus, and Cooper said new members are always welcome.
The group, which practices on Monday evenings at Clark Middle School in Bonner Springs, is rehearsing for its April performance of Parts II and III of Handel's Messiah.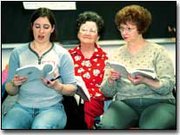 Weidenaar, a third-year doctoral student in choral conducting at the University of Kansas, has been working with the group since 1988.
It's fun, he says.
"The people are here because they love to sing," Weidenaar said.
The biggest challenge, Weidenaar said, is not to get the music out, but to get the word out.
"To let people know that we're here," he said. "We have limited resources and we want everybody to know about the group."
The group, which hires its director, pianist and 20-piece orchestra, must raise funds to pay for the costs.
A chart in the classroom where they meet shows that even though fund-raising efforts are well under way, more funds are necessary.
About $6,000 is needed to cover the three performances scheduled for April.
"Sponsors are needed," said member Nola Cooper. "We will welcome donations of any amount."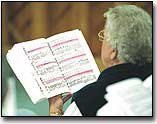 And when John Robison, president of the group and a teacher at Basehor-Linwood High School, reviews the chorus members' fund-raising efforts during a break at practice, he encourages members to continue contacting prospective donors.
So far, the amount taken in is looking good, he said.
"This is amazing, this is wonderful," Robison said. "We want people to support this stuff."
The cultural advantage of the chorus is a plus, he added.
"I think it's important for Bonner Springs to have cultural opportunities like this," he said. "I think it adds a lot to the town."
The chorus members are a diverse group, Robison said. The roster includes everyone from retirement age to college age and even to high school age.
"To look at them you wouldn't think that they would be making the beautiful sounds that they are," Robison said. "You have all ages, you have some who have trained for years and years, and you have people who have never even sung before, and we all learn from each other."
Robison said he's learned a lot from this group.
"I've learned to never underestimate a group of people they're singing the Messiah in there and that's not easy work and they're doing a great job."