Chieftain wrestlers statebound
Expecting improvement from the Tonganoxie wrestling this weekend will be an easy task to accomplish.
After all, the Chieftain squad only qualified two wrestlers for the Class 4A State Wrestling Tournament last year and scored only one point.
This time around, there will be six Tonganoxie representatives down in Wichita for the State meet, with a much-brighter outlook.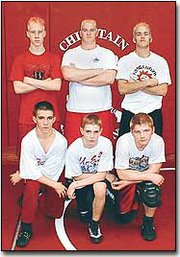 "I honestly think any one of these kids are capable of wrestling at the level where you can place," Tonganoxie head wrestling coach Bill DeWitt said. "You have to do everything right and nothing wrong. We're getting better every year, every meet and if we don't have any mistakes, then yeah, a couple of kids can place."
Tonganoxie took sixth place in the 15-team Class 4A Regional tournament held at Holton last weekend. Clay Center, which placed six individuals in the final round, won the event with 186.5 points. Placing second was Concordia, followed by Basehor-Linwood, a Kaw Valley League opponent.
The Chieftains will send two wrestlers to Wichita who have made the trip before seniors Mike Andrews (160-pound class, 23-5 record) and Tony Miller (275, 18-10). Another senior, Willy Altman (140, 24-6), will be making his first appearance at the State meet after finishing runner-up at the Class 4A Regional Championships at Holton last weekend.
"The gratifying thing is that all my seniors, all three of them get to end their high school careers down in Wichita," DeWitt said. "As a head coach, any time you can get all your seniors to State, that's a good thing."
Altman fell victim to a third-round pin in the 140-title match, while Andrews won a 7-4 decision to take third place. Miller, who registered a couple of pins under a minute at the tourney, lost in the consolation final by fall.
Other first-time State qualifiers include juniors Josh Ferris (125, 25-9), Steve Adcox (145, 25-10) and freshman Chad Starcher (103, 19-13). All three took fourth place at the Holton regional.
After Tonganoxie's day was completed Saturday, DeWitt reflected on how the squad has improved, despite competing in a stronger regional and placing only individual in the finals.
"This is a much tougher Regional than we had last year, but we qualified more kids for State than we did last year, so that's a good sign," said DeWitt. "I thought maybe we could have one or two more in the finals. Willy wrestled fine against a good kid in the finals. The rest of the kids battled through the back door and showed a lot of character there."
Even though the competition gives the Chieftains hope for some individual medals, DeWitt noted that the atmosphere and competitiveness at State is hard to match.
"Nothing gets you ready for State, unless you've been there before," DeWitt said. "Mike and Tony have been there before, but for the other four kids, this is a first-time thing, so you talk about an eye-opener.
"State it's an experience," he added.
First-round action for the Class 4A State Tournament begins Friday at 9 a.m., with the second round quarterfinals to follow. On Saturday, the first session starts at 9 a.m, opening up with consolation cross bracketing, quarter and semifinals. The Parade of Champions will be held at 6:10 p.m., with the finals held on one mat per class.
Class 4A Regionals at Holton
Team scores: 1. Clay Center, 186.5; 2. Concordia, 116; 3. Basehor-Linwood, 106; 4. Marysville, 99; 5. Atchison, 97.5; 6. Tonganoxie, 85.5; 7. Hiawatha, 85; 8. Wamego, 84; 9. Lansing, 80.5; 10. Piper, 76; 11. Hayden, 76; 12. Holton, 62; 13. Sumner Academy, 60; 14. Perry-Lecompton, 23; 15. Maur Hill, 21.
State qualifiers
103 First, Marcus Waters (Lansing) def. Grant Wisdom (Concordia), 7-3; Third, Cody Bell (Basehor-Linwood) def. Chad Starcher (Tonganoxie), 16-6.
112 First, Eric Deneault (Concordia) def. Lance Ferris (Wamego), 7-1; Third, Ryan Mick (Marysville) pinned Chris Roe (Piper), 4:03.
119 First, Trevor Charbonneau (Clay Center) def. Greg Smith (Concordia), 5-2; Third, Andy Foster (Sumner Academy) def. Frankie Losensky (Piper), 3-2.
125 First, Jordan Clouse (Clay Center) def. Carlos Perez (Hayden), 6-5; Third, Tim Morgan (Basehor-Linwood) pinned Josh Ferris (Tonganoxie), 1:29.
130 First, Austin Pruser (Clay Center) def. Russ Fitzgerald (Marysville), 10-3; Third, Brandon Kenney (Haysville) def. Mark Williams (Sumner Academy), 3-1.
135 First, Jeremy Johnson (Piper) def. Jesse Trumble (Clay Center), 5-4; Third, Robert Neil (Atchison) def. A.J. Haugen (Haysville), 10-6.
140 First, Steven Kern (Wamego) pinned Will Altman (Tonganoxie), 5:02; Third, Tyson Scott (Maur Hill) def. Josh Lee (Hiawatha), 16-3.
145 First, Ryan Phillips (Holton) pinned Matt Dukes (Basehor-Linwood); Third, Josiah Rush (Clay Center) pinned Steve Adcox (Tonganoxie).
152 First, Sheldon Pfizenmaier (Clay Center) def. Brandon Buck (Basehor-Linwood), 9-3; Third, Troy Medill (Lansing) pinned Jake Weishaar (Atchison), 4:50.
160 First, Kyle Shannon (Clay Center) def. Pat Vogelsburg (Marysville), 2-1 (OT); Third, Mike Andrews (Tonganoxie) def. Vince DeMarest (Lansing), 7-4.
171 First Jacob Strait (Concordia) def. Shane Thoreson (Marysville), 10-3; Third, Derek Corral (Clay Center) def. Justin Smith (Hayden), 6-5.
189 First, Alan McQueen (Hiawatha) def. Aaron Rinehart (Perry-Lecompton), 9-4; Third, Ed Dunn (Holton) def. Ryan Friedrichs (Marysville), 4-3.
215 First, Matt Weishaar (Atchison) pinned Kole Dierking (Hiawatha), 1:20; Third, Matt Cyre (Concordia) def. Kevin Kent (Hayden), 13-3.
275 First, Matt Gillett (Basehor-Linwood) pinned Josh Rebant (Atchison), 1:18; Third, Rhett Caviel (Sumner Academy) pinned Tony Miller (Tonganoxie), 2:35.