Fire destroys apartments
Management company defends responses to tenant complaints
A fire last Wednesday night that destroyed four apartments has ignited a string of complaints by tenants of the Cedar Hills complex.
The blaze broke out about 9:45 p.m. Wednesday in a two-story apartment undergoing renovation. That dwelling was damaged in a fire last December, a fire that was attributed to a candle.
Last week's blaze, which spread to the three other two-story apartments in the building, caused an estimated $250,000 in damage, according to Tonganoxie fire chief Charlie Conrad. The cause, he said, has been narrowed to two possibilities: faulty electrical wiring or a water heater that was installed about 4 p.m. Wednesday.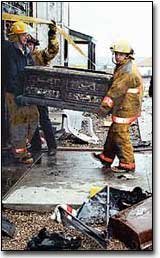 "It's down to the insurance company, and they're doing their investigation," Conrad said. "If they can determine the exact cause, that would be great."
The apartment was being renovated by a contractor hired by Shelter Insurance, said Dobie Bartlett, district manager for First Management, which manages the complex on Ridge Circle.
The contractor was working without a building permit, according to city officials. He applied for one the day after the fire but back-dated the application Jan. 2, 2001.
"He stated that he had intentions of getting a permit," said Tim Pinnick, the city's building inspector. "He didn't, and that's not compliant with our code."
Pinnick said he inspected the apartment on Jan. 16.
"He was roughed in," Pinnick said. "He then got the thing Sheetrocked, and that's when the problem occurred. I would have to issue a certificate of occupancy, which without a permit, he wasn't going to get."
Tenant complaints
Since the fire, several tenants talked about electrical problems at the complex.
Cindy Foster, whose apartment burned on Wednesday, said she called First Management four times about electrical short-circuits after the December fire.
"We called management and told them we have shorts, come and fix them," she said. "They came once."
The problems didn't end, and when Foster called again she was told another work order was needed, she said.
"I'm contacting an attorney," she said. "I feel like this is total neglect."
To add to her problems, Foster's renters insurance was scheduled to go into effect this Friday nine days after the fire.
Foster and her sister, Bonnie Sivyer, who previously had lived in the apartment complex, talked last weekend with occupants in 19 apartments.
Sivyer said 11 residents complained of electrical problems and six did not have working smoke alarms.
Sivyer said she plans to present affidavits from many apartment residents to the Tonganoxie City Council at Monday night's meeting.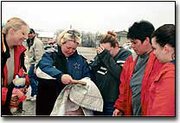 She said she hopes the city would adopt ordinances that would strengthen its inspection powers.
Another tenant, Angela Lenahan, said the bathroom and kitchen of her apartment had flooded before she moved in on June 1.
"They didn't want to come out and do anything," she said.
About a week later, she discovered that water had leaked into a bedroom wall.
"It took them a month and a half before they finally did anything about that," she said. "I'm still not sure it's fixed. The latest thing was back in November when I tried to replace a light bulb in my kitchen and I was shocked."
After going back and forth with the maintenance company, and even involving Pinnick, she's still concerned about her electricity.
"I'm hardly ever there," she said. "As a matter of fact, the night the (Wednesday) fire happened, I wasn't there. I stayed at my parents. I have lived more with my parents than at my apartment."
Pinnick said the city receives very few housing complaints.
"But it's something that the building inspector handles as they come along," he said. "We weren't notified of any problems over there. They were trying to work through the management."
Company defends actions
But Bartlett of First Management said that her company has been responsive to tenants' requests.
In addition, she said, an electrician was sent to the apartments on Tuesday, after the company initiated calls to tenants.
She said residents' safety is of utmost importance to her and her company.
She said she has heard praise from the property manager, Janell Breedlove, who was hired in November.
"She has the keys, and they're going up today to address the concerns that we're hearing," Bartlett said on Tuesday.
"We will address what people will give to us. We cannot read minds. If you're dissatisfied, then you need to let us know. Don't rumble among yourselves. It will do nothing but make you more irate."
Changes in codes
Conrad, the fire chief, said that now city code requires fire walls between each unit in an apartment building. But at the time this building was constructed in 1990 that wasn't the case.
"They put a fire stop in the attic," he said of the renovation project under way.
He said the fire ignited in the ceiling of the main floor, then spread up and across to the second floor of the adjoining apartment.
"That's when it set the whole thing on fire," he said.
It's difficult, he said, to know whether the fire was caused by the water heater installation, which would have included a worker soldering pipes Wednesday afternoon, or because of electrical problems.
"We don't know what all was turned on for sure," he said.
Because the fire was not intentionally set, he said, further investigation would be handled by insurance company officials.
"On accidental fires, you let the insurance companies fight it out," he said.
Pinnick said he is an advocate of strong building codes so that if a problem occurs in a residential structure and the owner or manager doesn't address it the city can take action.
"I really encourage people to call us, just call city hall," he said.
Conrad agreed.
"I would strongly support some type of a life-safety code," he said.
It would allow the fire department to inspect businesses, as well as apartment buildings.
"There's not a cost for anything, unless you're going to violate something that's going to endanger somebody's life," Conrad said.