The heart of the matter
Mirror columnist, who successfully undergoes risky heart surgery, urges everyone to pay attention to symptoms.
When Billie Aye, columnist for The Mirror, learned in December she had a tumor in her heart and would require coronary surgery, she didn't go home and take a nap.
Instead, during her six days at home prior to the surgery, she sat at her kitchen table and wrote eight "Remember When" columns so that her readers wouldn't have to go without.
Now almost fully recovering, Aye recalls the shock of learning she had a rare heart condition.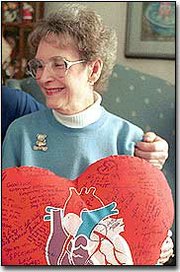 Her symptoms seemed to appear suddenly, she said.
Aye recalled that in August, she made a trip to Canada with her daughter Melody and kept up a busy schedule on and off land.
"We went whale watching in a rubber boat, going up and down with the swells," Aye said.
But about a month later, she lost her appetite and began losing weight.
"I had trouble eating," Aye said. "Nothing tasted good."
Also, she felt exhausted and was short of breath.
In mid-September, she visited her physician who said she may have had colon problems and he suggested a change in diet.
But in November, after losing more weight, she went to a specialist who signed her up for a colonoscopy.
But before the procedure began, Aye's heartbeat became irregular.
Today when recalling the experience, Aye puts her right hand over her heart.
"You could put your hand here and it felt like my heart was going to leap out of my chest," Aye said.
So instead of the colonoscopy, the next day Aye underwent an echocardiogram a diagnostic procedure that showed a picture of a tumor in her heart.
Dr. Jose Dulin, of Kansas Cardiovascular Associates, Kansas City, Kan., was already acquainted with Aye. He had treated Aye's husband, Delbert, since 1994, when he underwent heart bypass surgery.
Dulin recalled his reaction to hearing about Billie Aye's tumor.
"It was all pretty amazing," Dulin said. "The tech called me right away and said 'Wow, look at this thing.'"
Dulin, who has been a cardiologist for 20 years, described the tumor as a left atrial myxoma.
"It's a benign tumor of the left upper chamber of the heart," he said. "It was by far the biggest I have ever seen."
And clearly, the tumor had outgrown its home.
"A normal left atrium's size is 4 centimeters," Dulin said. "This tumor was 6.2 centimeters, so it was bigger than the cavity itself and it stretched the atrium quite a bit."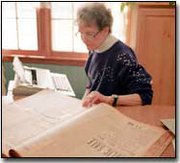 Dulin said he's talked to other cardiologists about Aye's condition.
"Nobody seems to remember seeing something as big as that," he said.
Aye, who has a videotape of her echocardiogram, watches the dark shape of the tumor moving in jellyfish-like cadence to the beat of her heart. Sitting on the edge of her chair, she acknowledges her unusual condition.
"There were no blockages, there was no plaque built up I simply had this tumor in my heart," Aye said.
About this time, Delbert decides it's time to joke with his wife of 49 years and he compares her surgery to his.
"She's just trying to outdo me," he said.
On Dec. 18, Billie Aye went to the hospital for a heart catheterization. On Dec. 20, she headed to the operating room, unafraid, she said, because of the positive experience when Delbert had undergone heart surgery during the Christmas holiday of 1994.
Today, the hours before her surgery are a blur.
"You are whisked away so quick," Aye said. "I never even had time to tell my family goodbye. They were gong to bring Delbert in and let us have the emotional farewell, but I was rushed down the corridor."
Her next memory falls into place after the surgery.
"I was still in intensive care and I just remember thinking, well, I made it."
Aye said her physician later told her he had been surprised that she lived to enter the operating room.
"When the tumor is so big, it actually can get stuck in the mitral valve," Dulin said. "This can kill people. So, she could have died suddenly she could have died very easily."
During and after the surgery, the Ayes' children, Melody Welker, Amarillo, Texas, Sara Froehlich, Good Thunder, Minn., and Mark Aye and Jim Aye, both of Tonganoxie, spent part of the Christmas holiday with their parents.
Billie Aye laughed as she recalled the coincidence that both she and Delbert had undergone heart surgeries during the Christmas holidays.
"Melody said we've just got to stop this family tradition of spending Christmas at the hospital."
Now, two months post-surgery, Aye is back to writing her columns and making dolls, a hobby she's been involved in for years. And getting back in the routine, noticing in more detail the simple moments little rituals, like sharing a pot of coffee with her husband.
Aye's story turned out well, her doctor said.
"It's been a very happy ending," Dulin said. "Not only did we remove the tumor, but tumors in the heart are almost always benign and she should be able to go back to her normal status completely this is totally curative."
As Aye embraces each new day with a greater amount of strength and stamina, she says the experience has opened her eyes.
"It makes you glad to be alive," she said. "And also you know that each day you better appreciate it, because you never know, you never know what's coming."