THS

volleyball coach Kelly Alexander resigns
Coaches resign all the time.
In fact, if you look at the three winter sports head coaches, only Bill Dewitt, now in his fourth year has any sort of tenure.
This is girls basketball coach Leslie Foster's first year and boys basketball coach Mike Webb's second.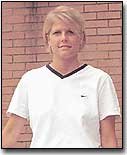 That means that at least two coaches have resigned in the past two years.
But when members of Tonganoxie's school board approved the resignation of first-year volleyball coach Kelly Alexander at their meeting last week, it meant more.
Not for Alexander, who already has her plate full teaching English at Tonganoxie Junior High School in addition to teaching and coaching recreational volleyball outside of school.
But the resignation meant more to next year's 10 seniors, who will see their fourth coach in as many years.
Keri Walker, who will be a senior next year, said it was a tough situation to handle.
"It's hard to be constantly changing coaching types," she said. "Everybody has a new style, and it's hard to feel completely comfortable for awhile. It takes some adjustment time."
This season's freshman coach, LeAnn Bond, was the team's head coach before Alexander's arrival. Chris Herron was the team's coach before that.
Walker said the resignation had been shocking to her and other team members.
"I was very surprised because I know she cares a lot about us," she said. "We heard about it word-of-mouth."
Neither Alexander, whose team went 9-24 this year, nor school officials would comment on the resignation.