All six wrestlers defeated in first round at State
Wichita — Sitting in the lower northwest section of the Kansas Coliseum, practically the entire Tonganoxie varsity wrestling squad including six State qualifiers, eagerly watched the final competition at the 6A, 5A and 4A State Wrestling Tournament.
The building process that Tonganoxie High School head wrestling coach Bill DeWitt is trying to instill into his team continued on Saturday evening by witnessing the festivities. Experiencing the championship matches from the stands were not what the qualifiers had in mind, but the view was better than the alternative an early road trip back home.
"It's a tight group," DeWitt said. "They want to see it, and they want to be a part of it in the future."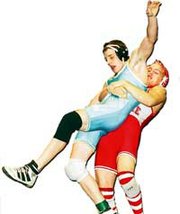 All six Chieftain wrestlers were defeated after round one and only three escaped with at least one win.
"This is a tournament that is dominated by Western Kansas wrestlers," said DeWitt. "We're just not used to wrestling that good of people that many times in a day."
Chieftain senior Mike Andrews (160) had the most success in the tournament, winning back-to-back decisions in consolation rounds before bowing out to Spring Hill's Aaron Pratt. Andrews lost to Pratt in a 10-1 major decision, cutting short by one match a chance to medal.
The other two seniors, Will Altman (140) and Tony Miller (275), lost both of their matches on Friday. Altman, who was a Regional runner-up last week at Holton, dropped a pair of major decisions, while Miller was defeated with two falls.
Chad Starcher (103) and Josh Ferris (125) were eliminated in the opening round by eventual runner-up finalists. Chad Hinderlit of Ottawa pinned Starcher in the first round, dropping him down to the consolation bracket. Starcher then won by fall in the consolation round, but lost early Saturday morning by a pin. Ferris lost his opener by a first-round pin to Mulvane's Derek Nordquist, then fell in a 12-2 major decision.
Steve Adcox (145) had his 5-3 decision sandwiched around two losses, losing an 11-5 decision on Friday, followed by a first-round pin on Saturday.
For the three Tonganoxie seniors, the tournament was a tough pill to swallow, but DeWitt spoke of how much the three students have meant to the program.
"The kids that are graduating, they may feel like they didn't get a medal and they aren't a part of anything," said DeWitt, "but they're as much as part of our success as anybody."
Out of 56 teams, Tonganoxie finished in a two-way tie for 37th as the Chieftains scored seven points, six more than last year.
"I'm not disappointed," DeWitt said. "Our wrestlers came back in the next round and wrestled to their abilities. Every year, I think we're getting better. It just takes a little bit of time."
Class 4A State Tournament
Team scores 1. Colby, 128.5; 2. Scott City, 113; 3. Abilene, 99; 4. Clay Center, 95; 5. Mulvane, 72; 6. Chanute, 71; 8. Goodland, 61; 9. Concordia, 59; 10. Osawatomie, 55; 11. Eudora, 50.5; 12. (tie) Pratt, Santa Fe Trail, 49; 14. Spring Hill, 48; 15. Chapman, 46.5; 16. Augusta, 46; 17. Coffeyville, 41.5; 18. Labette County, 39; 19. Basehor-Linwood, 35; 20. Atchison, 30; 21. Anderson County (AC), 29; 22. Parsons, 28.5; 23. Holton, 27.5; 24. Prairie View, 27; 25. Wamego, 25; 26. Marysville, 22.5; 27. (tie) Ottawa, Piper, 22; 29. Wellington, 20.5; 30. Ulysses, 20; 31. Baldwin, 13; 32. Sumner Academy, 11; 33. Nickerson, 10; 34. El Dorado, 9; 35. (tie) Clearwater, Hiawatha, 8; 37. (tie) Hugoton, Tonganoxie, 7; 39. Lansing, 51/2; 40. Lyons, 5; 41. (tie) Andale, Perry-Lecompton, 4; 43. (tie) Bishop Ward, Council Grove, Fredonia, Topeka Hayden, 3; 47. (tie) Caney Valley, Towanda-Circle, 2; 49. (tie) Douglass, Shawnee-Mill Valley, 1; 51. (tie) Burlington, Haven, Larned, Louisburg, Maur Hill, Rose Hill, 0.
Tonganoxie individual results
103 Chad Starcher, lost by fall, 1:01; won by fall, 2:30; lost by fall, 2:30
125 Josh Ferris, lost by fall, 1:27; lost by major decision, 2-12
140 Will Altman, lost by maj. dec. 1-13; lost by maj. dec. 1-10.
145 Steve Adcox, lost by dec. 5-11; won by dec. 5-3; lost by 1:18.
160 Mike Andrews, lost by fall, 5:49; won by dec. 14-4; won by dec., 7-3; lost by maj. dec. 1-10.
275 Tony Miller, lost by fall, 1:06; lost by fall, 1:23.