Delaware footprints
Casino discussion kicks up interest in tribe's history
Chief Dee Ketchum, head of the Delaware Indian tribe, headquartered in Bartlesville, Okla., recently learned that the town of Tonganoxie had been named for one of his tribal members.
"I knew our history ran deep in Kansas, and I was very delighted to hear that," Ketchum said. "It's perked my interest in doing more reading about my own history, particularly in and around Tonganoxie. When we have a town named after one of our chiefs, obviously that's quite an honor."
Ketchum, who is presently serving his second year in a four-year term as chief of the Delawares, said he did not know his exact relationship to Chief Tonganoxie. But Ketchum did say that he is the fifth Ketchum to serve as a chief of the Delaware tribe.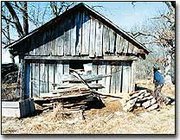 One of the earlier Ketchums was Captain John Ketchum, who settled in this area in 1832. Ketchum was a brother-in-law of Chief Tonganoxie. According to information on Ketchum's grave marker at the White Church Cemetery in Kansas City, Kan., he lived from 1780 to 1857 and served as tribal chief for the last 28 years of his life.
John Ketchum arrived here with tribe members, recipients of a United States treaty assigning the tribe land in northeast Kansas. That land extended west from the Kansas River to the Delaware River (near Perry) and included the present area of Leavenworth County and parts of Wyandotte and Jefferson counties, as well as a 10-mile corridor that led west to Indian hunting grounds.
Steve Jansen, director of Watkins Community Museum of History in Lawrence, said the government promised tribal members this would be their permanent home.
"They were sent here and were given this land for as long as the grass shall grow and the rivers shall run," Jansen said.
The book, "History of Kansas," published in 1882, states that according to a Sept. 24, 1829, treaty, the Delaware Tribe of Indians relinquished their land in southeast Missouri in exchange for this territory.
In the early 1840s, the government established a sawmill for the Delawares on Stranger Creek, about six miles southeast of what is now Tonganoxie. They also built small cabins for Indian lodges.
The government also provided a Delaware blacksmith, Isaac Munday, who was paid $50 per month and is now buried beside John Ketchum at the White Church Cemetery. In addition, in about 1840, the government built a two-story lodge for Chief Tonganoxie. This served as a convenient stopping place for travelers between Leavenworth and Lawrence.
On Dec. 14, 1843, the Delawares sold to the Wyandot Indians a tract comprising most of the area of what is now Wyandotte County. In the spring of 1854, the U.S. government signed a treaty that relinquished the Indians' title to most land in this area.
By that time, white settlers had already begun squatting on the Indian grounds, and the book continues: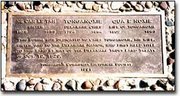 "At the close of June 1854, there was scarcely an acre of what is now Leavenworth County that had not been claimed by some enterprising citizen just over the Missouri border."
According to the same book, many of the land claims were speculative, taken up by Missourians who had no intention of establishing a permanent home in Kansas.
The account asserts that these Missouri landowners "assumed all the rights of citizenship and entered into the Territory and possessed the ballot boxes at all the early elections with the same unanimity and disregard of law that had characterized the establishment of their premature and illegal claims on the land."
Some of the land remained in Indian possession, as the treaty had provided land to be given to each Indian who remained.
But as treaties were signed and white settlers took up more and more of the area, the Indians moved south, to Cherokee country in northeast Oklahoma.
The journey was arduous and it is said that many of the Delaware, including Chief Tonganoxie, died along the way.
The Delaware Indians, known for their European farming methods, left their prints behind land once forested now cleared for the growing of tobacco and grains, a weathered cabin on a hill above Stranger Creek, a slight mound of earth where a two-story Indian lodge once stood, graves here and there, some marked, some not, and towns such as Tonganoxie, named after Indian settlers.
Fred Leimkuhler, 80, has studied area history for years.
On a recent drive across the county, Leimkuhler pointed out where Chief Tonganoxie's lodge had stood (on the north side of 24-40 more or less across the highway from Midwest Health Center); the burial site of Chief Tonganoxie, his wife and sister about eight miles southeast of Tonganoxie; and the burial site of John Ketchum, a chief of the Delaware Nation.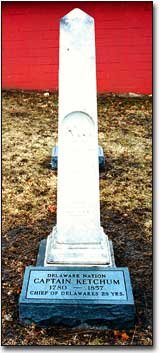 Leimkuhler said Chief Tonganoxie was married to Qua E Noxie, a sister of John Ketchum.
Tonganoxie's sister, Ne Car Le Tah, married W. Howard Ketchum Jr., the son of John Ketchum. Ni Car Le Tah and Howard Ketchum had three children, Rachel, Simon and Howard. After Howard Ketchum was killed during a hunting trip, Chief Tonganoxie and his wife took Ni Car Le Tah and her three children into their home.
It was said to be Ni Car Le Tah's son, Simon, who in 1864 was accompanying Chief Tonganoxie on a move to Oklahoma when the chief died.
It is believed that Simon brought Chief Tonganoxie back to this area, to be buried beside his wife and sister on land that Ni Car Le Tah had owned. This land today is owned by Clarence Kelly and is in the southeast part of Leavenworth County.
In 1991, members of the Tonganoxie Historical Society installed a marker on the graves.
Present at the ceremony was Chief Tonganoxie's closest living relative, Wanda Mae Barker Hatcher, a great-great-granddaughter of Ne Car Le Tah and Howard Ketchum Jr.
Michael Pace, treasurer of the Delaware Tribal Council, has done extensive research on the history of the Delaware, from its beginnings as part of the Algonquin family in New Jersey and eastern Pennsylvania to its eventual moves to the Midwest, including Missouri, Kansas and Oklahoma.
Pace translates the name "Tonganoxie" as meaning, "the one who walks small."
Leimkuhler said a more general translation passed on in this area was "little man," meaning, he said, that even as a young boy, "Tonganoxie was a man while he was still a child."