Tribe hopes city is game for casino
In a presentation laced with Delaware Indian history and even a prayer in Lenape, Dee Ketchum laid out his ideas Monday night for a casino.
Ketchum spoke for about 90 minutes to members of the Tonganoxie City Council, who had invited him to talk about the possibility of a casino in Leavenworth County. Area residents packed City Council Chambers, and others stood outside, straining to hear Ketchum, who is chief of the Delaware Tribe of Indians.
Ketchum's tribe, he said, is looking for economic development possibilities in Kansas, on land that the tribe occupied in the mid-1800s. The tribe, now based in Oklahoma, is considering a casino and other developments, possibly a motel and a museum.
The development could generate $25 million to $30 million in revenue, Ketchum said.
"We're interested in talking to a community that is interested in us and would pass a resolution of support," Ketchum said.
He had talked last year with the Lawrence Chamber of Commerce about a casino near that city's airport. But after protest petitions circulated, the Lawrence chamber said it could not support the project.
So now, Ketchum is looking for suitable land and endorsements.
"It's got to be a good fit for the Delawares and it's got to be a good fit for the particular area," Ketchum said.
And Mike Pace, the 10,500-member tribe's economic development director, agreed.
"We don't want to come in a place where we aren't really wanted," he said.
Although no casino site has been identified, Ketchum said he would meet with Basehor officials on Tuesday. And he talked about land north of Tonganoxie, as well as a 144-acre tract that is for sale along U.S. Highway 24-40 east of town.
City council members had scheduled Monday night's meeting with Ketchum as an information-gathering session, and took no public comment. City council members asked some questions following Ketchum's talk, but took no action.
"Obviously, I wish I had time to hear everyone's concerns this evening," Mayor John Franiuk said.
And if the council should want to take action, Franiuk said, "We'll have to have a bigger facility."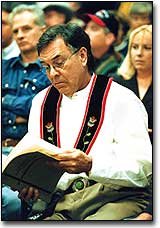 "Amen!" several in the crowded room agreed.
On Tuesday, Franiuk said he planned to present a resolution to the council for consideration. That resolution, he said, would be supportive of the Delawares, he said.
"I think it's important they have something to work with, something to think about," he said. "That's what we intend to do."
Monday night, Franiuk told Ketchum the city is interested in pursuing economic development possibilities.
"Tonganoxie has always been a community about sharing," the mayor said. '' We expect that from new neighbors who come to our community. That's what this town is all about helping neighbors and sharing."
Ketchum said he understood.
"We are very much in harmony with that," he said.
It's difficult to gauge public reaction to a casino proposal because no public comment was allowed Monday night. And local resident Debbie Hatfield chastised the council for not conducting the meeting in a more spacious setting.
Several Tonganoxie ministers on Sunday encouraged their congregations to attend the meeting.
For Ketchum, this area makes sense, he said.
He attended the University of Kansas, lived at one time in Kansas City, and his ancestors spent about 30 years here before they were forced to Oklahoma.
Chief Tonganoxie, for whom the city of Tonganoxie was named, was a Delaware.
"I think even Chief Tonganoxie adopted one of the Ketchums," the present-day chief said.
Although Ketchum spoke mostly in generalities, here are some specifics from his talk:
Casino development is a long process, and local support is essential. "It's not going to be easy," Ketchum said. "That's why we're here talking to you because we have to go hand-in-hand." If the tribe were to find suitable land, the federal Bureau of Indian Affairs would place it in trust. The tribe would then negotiate a compact with the state that would require approval from the Legislature and the governor.
Any land would be removed from the tax rolls. No sales tax would be paid on goods sold on the property. The Delawares would be interested in making that up and more, Ketchum said by sharing some of their profits with local municipalities. "I don't think you'll find that in Las Vegas," Ketchum said. "I don't think you'll find that in the private sector. I don't think you'll find that on the riverboats in Missouri." He said he's interested in supporting roads, schools, police and firefighters.
A management company, the Gilman Group, which Ketchum said operates other casinos on the west coast and internationally, would run the gaming operation. Gilman would be paid about 20 percent of revenue, Ketchum said.
It's likely a development would include a motel/hotel, shops, including smoke shops, and, potentially, a museum. "The casino is the motor to run the other facilities off of," Ketchum said.
Opposition will come. "I can't regulate morality," Ketchum said. "In my opinion, that's an individual matter." He said he doesn't gamble. "But my tribal council has advised me to look into it," he said. Although he cited a study that says employment and tax bases increase near casinos, but crime decreases, Ketchum said, "For every study that's done, there's probably one that can counter that."