A change in priorities
With God's help, a Tonganoxie auctioneer survives cancer
In August, he didn't think he'd live to his 50th birthday.
Knowing he had a grapefruit-sized tumor on his pancreas and a 99 percent chance of malignancy John Shoemaker, the New Year's baby of 1951, was ready to pack it in.
But four months later, he says life is better than ever.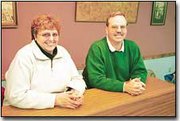 As Shoemaker prepared last week for a New Year's celebration, and to mark his half-century of life on this planet, he took a break from his work at the Tonganoxie auction barn he runs with his wife, Jan.
Sitting in the warmth of the office where windows showed a snow-covered parking lot sparkling in the afternoon sun, Shoemaker said his look at life has changed.
He recalled his ride home from the hospital, after removal of the pancreatic tumor that proved to be benign.
"I cried all the way home," Shoemaker said. "I was so happy. I could look outside and I could see beauty in stuff that I never saw beauty in before. Things change when you get that close."
That close to dying, he means.
Now, he says, his 2-year-old grandson, Zachary, first diagnosed the tumor.
He had held him on his lap last summer.
"Zachary poked my chest and said, 'Papa, there's a ball under your shirt,'" Shoemaker said.
"I knew there was a round spot there, but I was heavy, and I thought it was just more fat," Shoemaker said. "I didn't know."
A year prior to that, he had complained to his doctor about fatigue. He tried thyroid medicine and was tested on a sleep machine. Nothing seemed to lift his energy level.
Things took a frightening turn in August 2000 when Shoemaker experienced profuse rectal bleeding.
At 8 a.m. the next day he was at his doctor's office. An hour later, he was in the emergency room.
"My doctor sent me right over there," Shoemaker said. "He said I'll have a doctor waiting for you. I thought, yeah, right, but sure enough, when I got there, there was a doctor waiting on me."
An endoscopy showed that blood in the large intestine was coming from somewhere else, perhaps an ulcer.
When told he would be put in the hospital's intensive care unit, Shoemaker protested.
"I said I don't have time to come to the hospital I've got five auctions lined up in the next two weeks."
But at 2 a.m. the next day, he was rushed into surgery. His surgeon, Harry Wilkins III, located a hole in Shoemaker's intestine where blood was entering. This turned out to be where a five-inch pancreatic tumor had rubbed on the intestine and ruptured the intestinal wall.
Seven hours and seven units of blood later, the surgery ended. The pancreatic biopsy would probably show cancer, he was told.
"They were so sure it was cancer," Shoemaker said. "But the reports would come back indeterminable. They did test after test after test."
By Labor Day, when his annual auction was held, and run complimentary by members of the Kansas Auctioneer Association, the pathology reports began ruling out cancer.
Shoemaker, whose parents both died from cancer, was surprised that it was benign.
The tumor had to be removed.
"They went back through the same incision," he said. They took out the tumor and half of the pancreas, half of the stomach, part of the small intestine and took the gallbladder out and made it into a bile duct, they replumbed it."
The surgery, termed the Whipple procedure, is rare.
"Dr. Wilkins had done only five Whipples, and his associate, who's been a doctor for 20 years, had done 14," Shoemaker said.
Nineteen days after entering the hospital, John Shoemaker went home, wondering why he was spared.
"I look back and I think that really happened to me and I'm still here," he said. "You want to pinch yourself and see if you are here why did I get another chance, compared to somebody else?"
Jan Shoemaker says a higher power was working in their favor.
"I believe in angels," she said.
While sleeping in a pull-out bed near her husband in ICU, she had visitors, she said.
"Just before I went to sleep I checked on him and crawled back into bed and started to say a prayer," she said. "I heard wings coming down and ever so softly, an angel kissed me on my right cheek and said, 'It's going to be OK, it's going to be OK,' and then they left."
Also pulling for Shoemaker were signs of love from friends and family cards, visits, flowers, prayers.
"The auction association put me on their Internet prayer list immediately," Shoemaker said.
Because their daughter, Lori Winfrey, is a registered nurse at the hospital where he stayed, the Shoemakers said they felt they received extra caring treatment from staff.
John Shoemaker said a lifelong mantra continually came into his thoughts during his stay.
He wanted to share the words during the interview, but it took a few minutes before he was able to say them.
"Every night, no matter where I am, in a hospital, at home, in a motel, I have a saying I always talk to God," Shoemaker said. "It's 'In God's name I stand for health, wealth, well-being and love, amen.' There's not a day gone by for years that I haven't said that."
Almost fully recovered now, Shoemaker, who has operated the auction business since 1978, said he plans to make changes in his life.
"I'm not going to work 24-7's anymore," he said.
And for relaxation, he has the formula down pat:
"I've already got three trout fishing trips planned this year."
Life is good, he said.
"Thanksgiving was beautiful and Christmas was beautiful," Shoemaker said. "It's just different now. The stuff you thought was really important that you stewed over and worried about every day it's not that important it's family, friends and the power of God."