Crash survivor eagerly awaiting answers
Pentagon officials have recently announced they believe they are close to identifying a Russian cemetery where an U.S. Air Force officer was buried after Russians shot down his spy plane in 1960.
Forty years later, retired Col. John McKone, a 1950 graduate of Tonganoxie High School and one of the two survivors of the shootdown, said he hopes the body of Major Eugene Posa will make it home.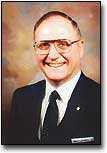 "I guess they're getting close to finding the body, and that would be great," McKone said. "It was 40 years ago now, but it's still a very compelling story."
It is a miracle, McKone says, that even two of the six men on board survived when the RB-47 was shot down over arctic waters.
Fight for survival
As far as McKone knew, three of the crewmen used ejection seats to evacuate the plane.
Their chances weren't good.
"When you're parachuting out over an ocean like that, the Bering Sea is part of the Arctic Ocean, 60 miles out to sea with 50 mph surface winds, 12-15 foot swells, 33 degree water we were only supposed to last 18 minutes out there," McKone said. "I was out there six hours."
A crewmember, Freeman Olmstead, survived the water for six and a half hours. Both men were picked up by a Russian trawler and were then held by Russia.
It would be seven months of captivity, solitary confinement and interrogation before the Russians released the men.
"Olmstead and I are pretty unique," McKone said. "We were the only two people who came back alive from the Soviet Union during the Cold War and just a handful of those who have survived arctic water."
It is fitting that in this time of year the news has been released about the advances in locating Posa's body.
"It's kind of appropriate for Thanksgiving and Christmas, too," McKone said. "Sometimes we forget our many blessings. I certainly have had many blessings in my life we're all sinners, including me but I tell you, that certainly straightened out my life."
About four hours after parachuting into the Bering Sea and boarding his inflated dinghy, McKone felt a spiritual presence.
"The Lord was with me," he said. "I'm not afraid to tell anybody that. I started saying some pretty unselfish prayers and all of a sudden there was a bright light at the end of my dinghy, so bright I couldn't look at it. I could almost reach out and touch it."
McKone said he didn't see a person or a figure and he didn't hear any speaking, but he knew it was the Lord bringing him a message.
"I knew all of sudden that I would be rescued," he said. "And I suddenly felt a lot warmer, and I had that feeling all the way through the whole thing."
McKone said that Olmstead, whose back was broken as he was ejected from the plane, also reportedly had a similar spiritual experience.
Accurate portrayal
When the men returned to the United States, William L. White, editor of The Emporia Gazette, and the son of William Allen White, wrote "The Little Toy Dog." The book provided a detailed account of the six men who were shot down, their backgrounds and families, the political situation of the day and the incident itself, as well as the ensuing drama.
The book is an accurate portrayal, McKone said.
"White was a well-known author and he was bound to print the truth and that's what we wanted," McKone said. "That's what made the book as factual as it was."
Ironically, later in the decade, it was the Red Baron himself, otherwise known as "Snoopy," for whom the book was named. The comic strip by Charles Schulz had been gaining in popularity.
"The crew chief had just painted Snoopy on the side of the fuselage," McKone said.
And, in a totally unrelated occurrence, Maj. Willard G. Palm's daughter had given him a small Snoopy dog which he had placed in his pocket and had with him when the plane was shot down. Palm also was ejected from the plane. McKone saw him as he parachuted toward the icy waters, and he thought he was unconscious.
"I was in the top shoot, Bruce (Olmstead) was in the middle shoot and Bill was in the bottom shoot about 1,000 feet below," McKone said. "He never moved. He didn't open up his one-man dinghy or his survival kit."
Palm's body was recovered and returned to the United States.
Although McKone still doesn't know the fate of the plane or of the other crew members, he has heard speculation about Eugene Posa.
"I think he (Posa) was left in the airplane," McKone said. "I have heard some pretty good rumors that the Russians had dragged the area in October 1960, several months after the shootdown, with a dragline and picked up parts of our airplane. They reportedly found parts of Posa's body."
McKone reiterated that this is rumor.
He said the fate of the other two crew members, Oscar Goforth and Dean Phillips, is also unknown, but he said he thought that they, too, most likely went down with the plane.
Fighting the enemy
Today, McKone is angry about the episode. The plane was flying in safe territory, he said.
"We did not fly over Russia," McKone said. "We weren't going to fly over Russia we were 60 miles out to sea flying parallel to the coastline."
It was broad daylight when the Russians shot the plane down.
"I thought it was very unfair and of course I was angry about the loss of the airplane and my four friends and crew members."
As for himself, the worst part about McKone's time in captivity, he said, was the isolation.
"I was in solitary confinement the whole time," he said. "Either sitting in my cell or talking to interrogators."
This doesn't go along with what Americans are like, he added.
"Americans are always talking to somebody on the phone or face-to-face," he said. "In that situation, you're all alone in the isolated cell. There are other prisoners in the cell block going crazy, screaming, hollering, guards beating them up that could be unnerving."
When McKone returned to the United States, both he and Olmstead continued to work for the Air Force. And today, though retired, the men still stay in touch with and see one another. Their experience in Russia gave the men a common goal.
"It motivated us to stay in the Air Force because of what we went through with the Soviets," he said. "We found out what communism and the Soviet Union was all about we knew about it first-hand and we wanted to do all we could to fight this menace."
McKone earned a master's degree at the University of Pittsburg, Penn., went through Air Force officer intelligence school and survival school and from 1962 to 1964 taught Air Force survival at Stead Air Force base.
In a way, his treatment in Russia helped others, he said.
"This was when Vietnam was heating up," McKone said. "A lot of the Air Force crews went through the survival course. Later we had a lot of letters from men who had been prisoners in Vietnam they said they were glad we'd been so rough on them in training because it helped them survive captivity. It was a great thing to be able to teach, but I learned it the hard way."
Improvement in relations
Since then, tension between Russia and the United States has lessened, which may be why the Russians are more cooperative.
The Russians are attempting to get along, he said.
"They're trying," McKone said. "Before they wouldn't even try. So I think that yes the relations between our countries have thawed. I think if we have some wise statesmen that will continue that feeling, then I think we can truly work with Russia and be friends with them. Things really do change over time, don't they."
And now, after the passage of 40 years, McKone wonders if Posa's body will be returned to his homeland. As McKone ponders the grim fate of the four crewmen, he seeks a way to look at the situation in a positive light. For their sake, it is difficult their mortal lives were shattered at a young age. But for McKone himself, perhaps there was a positive.
He recalls the vision he saw while in the dinghy.
"It was a wonderful feeling to have the Lord with you," McKone said. "That's the reason I survived, and that's the reason I came back.
"Miracles still happen and that's all I can call it. Miracles are done by the Lord, no one else."